Upland Stove Company of Greene, NY was founded in 1977 by Fred and Frank Hanrahan. The company designed and produced cast iron stoves, most notably models 17, 27, 107 and 207. Between 1977 and 1984, the company manufactured approx. 80,000 stoves.
Parts for the stoves were cast in various east coast founderies, including
Unicast
and Hamburg Manufacturing in Pennsylvania. Assembly was done at the Upland Factory in Greene, NY.
The stoves were noted for their simple design and operation, which used the front to back burning method made famous by companies such as Jotul. The exterior design of the stoves were classic, with a look similar to some early
Vermont Castings
and Jotul models.
The wood stove business peaked in 1979 and 1980 and slowed greatly in the following years due to a large decline in the price of oil. This put a strain on Upland Stove, which had grown and invested heavily to produce a large number of stoves. As a result of this slowdown, they were unable to make ends meet and in 1985 the SBA called in their loans and put the company on the auction block. The brothers then went on to manufacture car and truck trailers.
Craig Issod
, the current developer of Hearth.com, bought parts and some patterns for Upland Stove for $15,000 at the 1984/85 SBA auction. He transported 4 tractor-trailer loads of patterns, castings and fixtures to his warehouse in Medford, NJ and installed a small assembly line and produced a small quantity of updated stoves. During Issod's tenure, many improvements were made to the line, including a larger retrofit glass door, rear heat shields and reversible top/rear venting for the 107 and 207. The new company, termed Upland Distributing, operated from Medford until 1989, when a decision was made to discontinue production of wood stoves due to forthcoming EPA requirements, which would have made production of the existing line impossible.
This url has a short video of the Medford NJ upland factory:
http://www.hearth.com/econtent/index.php/forums/viewthread/8088/
Some parts lists and directions for the stove are in the Dealers Handbook, a PDF located under the attachments in this wiki entry. Others are linked below.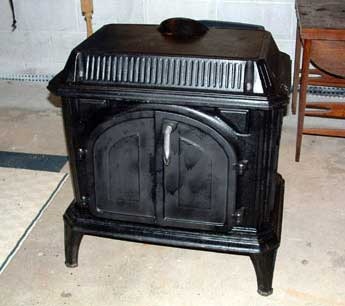 (Upland 107 above)
Upland 107 and 207: All cast-iron American made, Air tight, Double front doors, 7" flue ,Approx 50,000 BTU max. 22-24" log length ,Standard clearances without any heat shield are 36"; Front and/or side doors use 3/8 inch medium density gasket.
Most 107 and 207 use 7" stovepipe, although early 107 use 6". Pipe must be ovalized to fit into 207 collar.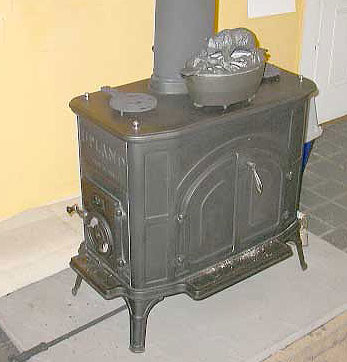 (Upland 207 above)
Upland 207 PDFs
Owners Manual for Upland 207 -
http://hearth.com/images/uploads/207.pdf
Color Literature for Upland 207 -
http://hearth.com/images/uploads/207colorlit.pdf
Upland 107 PDFs
Color Literature for Upland 107 -
http://hearth.com/images/uploads/107colorlit.pdf
Upland 107 Manual -
http://hearth.com/images/uploads/107manualsm.pdf
Upland Glass Retrofit Door - for 107/207 -
http://hearth.com/images/uploads/uplandglassdoor.pdf
Upland 27 PDFs
Color Literature for Upland 27 -
http://hearth.com/images/uploads/uplandcolorlit27.pdf
Manual for Upland 27 -
http://hearth.com/images/uploads/upland27manual.pdf
Upland 17 PDFs
Manual for Upland 17 -
http://hearth.com/images/uploads/upland17manual.pdf
Stove Line Drawing displayed below:
Upland 17 - 27: Log Length #17 (16") - #27 (20") - Box Stoves - 5/16" dense gasket or 3/8" medium for front door.
17 and 27 use 6" stovepipe. #17 is rear vent only, which #27 was available in rear or top vent.
Old ad below