Nashua Stoves - a heavy duty plate stove from the late 70's. One of their advertisements featured putting a stick of dynamite into the stove and setting it off - the stove and even the door latch survived!
Full Image of the advertisement:
http://hearth.com/images/uploads/nashuafull.jpg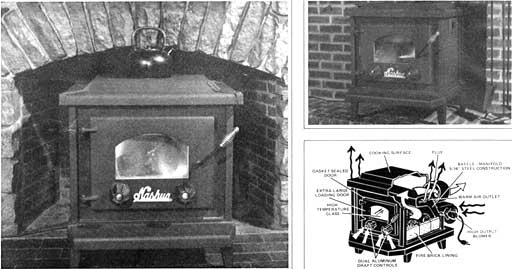 Keeping warm never looked so good. Nashua Fireplace Stoves -woodburners and coalburners- give you more for your money. Clean-line designs with the charm and beauty offered by large glass fireviewing areas are combined with exceptional radiant and powerful forced hot-air heating capabilities. Compare Nashua Fireplace Stoves for quality - the same fine craftsmanship, choice materials and careful attention to detail of every Nashua are evident in these models. So is the Nashua dedication to excellence - to produce coal and woodburning stoves that look good, work hard and will last a long time, while suiting the lifestyles and economics of Americans today. Compare Nashua Fireplace Stoves for efficiency.
They are airtight and baffled to re-burn the heat-giving gases for near-total combustion. As with all Nashuas, efficient radiant and circulating heat are provided through the proven Doubleheat design. Compare Nashua Fireplace Stoves for heating—like all Nashuas, these stoves whether used in fireplace or freestanding installations distribute heat quickly and evenly throughout your home. In fact, Nashuas through their super-heated manifolds and powerful blowers recycle the volume of air in your house in less than an hour. Your Nashua will never leave you out in the cold. Compare Nashua Fireplace Stoves for durability.
Nashua Fireplace Stoves, like all Nashuas are the most substantial stoves you can invest in. They are constructed out of thick boilerplate steel, with extra-strength structural reinforcement plus substantial amounts of quality welding. Each stove is lined with industrial firebrick and faced with high-temperature resistant glass windows. Threaded draft controls assure sensitive fine tuning of radiant heat output. All models have successfully been tested to UL standards. They carry one of the strongest warranties in the business. Compare Nashua Fireplace Stoves for heating/burning versatility.
Nashua Fireplace Stoves are available in four models. The wood burning models, deliver 8 to 12-hour burn times and are available in two sizes. The N FP- 1 (specifications given be- low) has a heating range of 7,000 to 10,000 cubic feet. The NFP-2 heats 12,000 to 16,000 cubic feet. There are two sizes of coal burning units, which maintain from 6 to 16-hour burn times. The NC-i has a heating range of 6,000 to 9,000 cubic feet. The NC-2 has a heating capacity of 10,000 to 14,000 cubic feet. For complete information on Nashua wood and coal stoves, send $2.00 to Heathdelle Associates, Inc., for a full package of helpful decision-making data.
Specifications
Height. 29~/R in.; Width: 27 in.;
Depth: 33 in. (251/4 without blower);
Flue Height (top). 25~/4 in.; Flue
Size: 6 in.; Log Length Cap.: 18 in.;
Door Opening: 10 x 16 in.; Materials:
Heavy boilerplate steel; Fuel: Wood;
Weight: 385 lbs.; Blower Capacity:
265 CFM.
Distributor
Heathdelle Sales Associates, Inc.
Dept. W5D82, Route 3
Meredith, NH 03253