Atlanta Stove works was a well known
Manufacturers
of cast iron and steel stoves - located, of course, in Atlanta GA.
They closed shop sometime in the 80's - many of their models were then built by Martin Stove Company of Birmingham, AL.
Their range over the years included hundreds of models of wood, coal, gas, laundry and cookstoves.
From "The Cast Iron Collector"
Atlanta Stove Works
Location: Atlanta, Fulton County, Georgia
Founder: Sam D. Jones
Period of Production: 1898-1957
Products Manufactured: Full Line
Brand Names: Early American
Atlanta Stove Works Timeline
1889 - Company founded as Georgia Stove Co.
1898 - Jones family acquires controlling interest in Atlanta Stove Works.
1902 - Birmingham Stove & Range Co. established to produce hollow ware and stoves for ASW. Site chosen for plentiful source of high grade iron.
1957 - Atlanta
Foundry
closed.
1984 - Jones family divests.
1987 - Company sold to Martin Industries of Florence, AL.
Recent models included the Huntsman and the Woodsman.
Manual for Atlanta Stove Works Huntsman 241 - PDF.
http://hearth.com/images/uploads/ASW_Huntsman241.p
df
The Model 27 Box stove - probably the most copied stove of all time!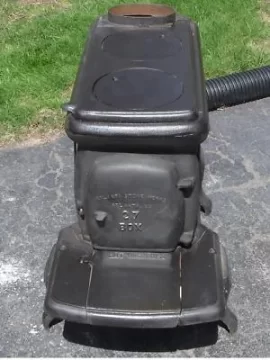 Attached is an article about the Atlanta Stove Works booming in 1976.