I visited the 2018 Next Generation Stove Design Challenge organized by Alliance for Green Heat (
http://forgreenheat.org
) on Sunday afternoon at the National Mall, Washington DC. It was as perfect of weather as any (dry, ~40-50F) and the tent was cozy and slightly smoke-smelling as one might expect for a wood stove demo...
http://forgreenheat.org/2018-stovedesign/stovedesign.html
First up where I entered, I saw SBI's automated stove, the Green Box Stove.
This stove does not generate electricity, just uses a small amount of it to automate the temperature by regulating against the flue temp to keep it within an efficient zone (~400-900F). What struck me most about this stove is the huge glass, even bigger view than my ESW Madison, although not all of it was usable firebox... seems like the secondary tubes and other stuff up top were visible.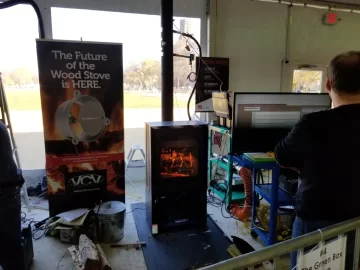 - note that big banner was for the VcV stove next to it, not the SBI Green Box

The VcV was next, although I don't recall talking to them about it. Seems I missed that one and moved on (some of the vendors were quite busy with others asking 50 questions like I do

)
In any case, I'll provide a pic and the literature I grabbed from them: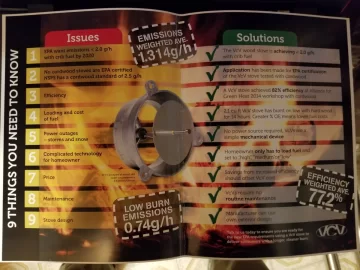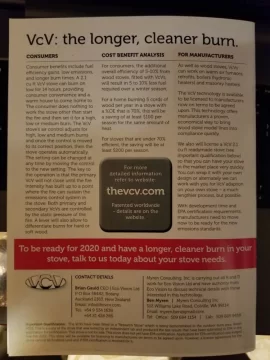 Next is the 509-1 Optimum, a "pellet" stove specifically designed with a 5 inch wide feed tube to burn North Idaho Energy Logs and similar stuff.
The inventor said this unit is ready to go right now and you can buy it, but he will be working on some sort of design for rectangular bricks.
IIRC rectangular bricks can work with it, just hit or miss, but anything larger than 5 inches is a no-no with this unit. With anything besides round briquettes the problem is which axis they expand. He described coming up with a design where you have a rectangular feed tube with a center divider and 2 stacks of bricks that alternate, or 2 burn at once or something.
The stove really behaved like a pellet to me in terms of the forced-air flames coming off the bottom of the briquette. The inventor mentioned one notable difference here is the simplicity of the control - there is no feed rate, no auger, as it's gravity fed, but it appears from the literature there is some measure of control (combustion fan speed would dictate oxygen supply and how fast the logs burn down).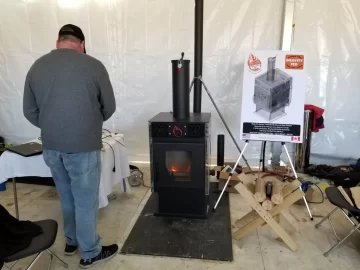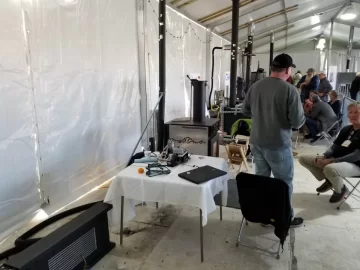 An important detail is this uses 4 inch pellet vent.
Next up is the Kd3 by Unforgettable Fire. This is a woodstove with downdraft gasifier, and the gasifier put on an impressive show.
First pic has dirty glass up top (more "R&D" to be done here, like adding an airwash system), 2nd pic is better-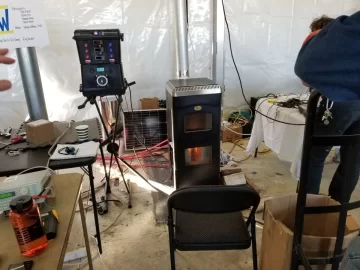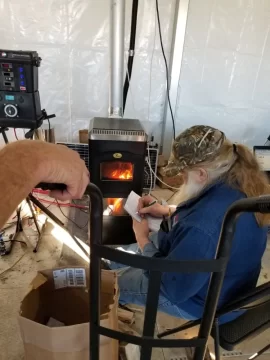 The Kd3 had a TEG which was water-cooled. I was curious about the water aspect here, and the general idea was this is a space heater, with a little hot water for some light-duty applications (in-floor radiant heating for a room?)
It uses 4" pellet vent.
Also in the corner, another stove this same vendor produced a while back - the Kimberly Stove - note the small silver stove in the center of this image-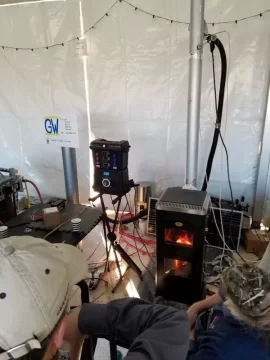 This uses a 3 inch pellet vent. Page:
https://www.unforgettablefirellc.com/kimberly-wood-stove/
That really got my attention more than the TEG stove they were demo'ing. Except for the $4K price tag....
Next up is one I found fascinating, the Deutsch-made E-Stove by Thermoelect GmbH (imported by Wittus-Fire by Design, Pound Ridge NY,
www.wittus.com
)
This is a micro CHP system that burns cord-wood. The brochure lists 10-20kW for central heating and DHW, up to 250W thermoelectric generation.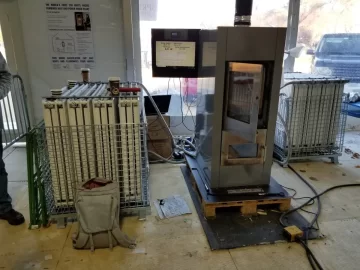 It's a downdraft gasifier with a metal "mushroom" in the bottom of the firebox for the smoke to shoot down into the secondary combustion chamber: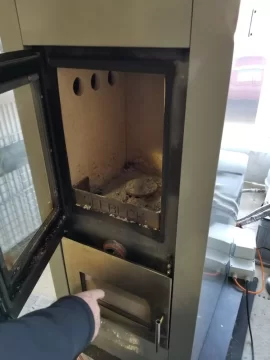 Primary air comes in through the big holes at the top of the firebox, and secondary air comes in just inside the bottom door. The unit is designed to
sit in a living area, with the brochure depicting the unit in an exploded view diagram as if the panels were interchangeable or selectable... never did
ask about that.
The firebox holds around 5 kilo's, so not a lot of wood at once, although something doesn't sound right about that - at least with wood briquettes I
bet you could fit much more than that

(more-)
Last edited: