SIGN UP
DONATE
CONTACT
2018 Wood Stove Design Challenge
Updated February 26th, 2017
Fourth Wood Stove Competition to focus on automation and electricity generation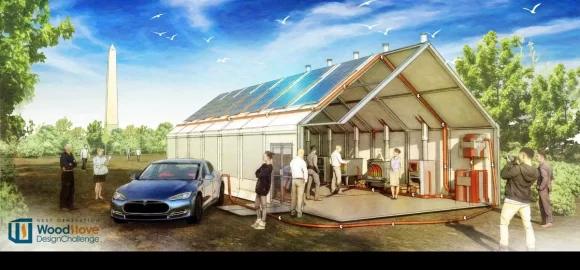 ​
The Alliance for Green Heat is planning the fourth Wood Stove Design Challenge on the National Mall in Washington, DC from November 9 - 14, 2018. Stove designers interesting in competing can
register here
.
The 2018 event will be free and open to the public and includes rigorous testing of the next generation of technology that can make wood stoves consistently cleaner, more efficient, easier to use and, like solar energy, a renewable source of electricity.
The fourth Wood Stove Design Challenge is modeled after the Department of Energy's (DOE's) Solar Decathlon, a competition between teams from universities worldwide to design more efficient and cheaper residential solar power. Like the Solar Decathlon, the Wood Stove Challenge also attracts teams from around the world and focuses energy and resources on innovation and improved performance. The stove competitions have been in partnership with the DOE Brookhaven National Lab, the New York State Energy Research and Development Administration (NYSERDA), the US Forest Service and, the Osprey Foundation, among others.
Participants will compete in two events: One is to automate the wood stove with 21st century technology like sensors and WIFI-enabled controls that improve combustion efficiency, reduce air pollution and improve ease of use. The second competition will focus on thermoelectric wood stoves that generate electricity to power lights, cell phones, and WIFI-enabled controls. Thermoelectric generators are similar to solar PV systems except they turn heat instead of light into electricity. When integrated with a residential solar PV system, a thermoelectric wood stove and battery power system, like the TESLA Powerwall, could effectively double the wintertime output of solar PV system in areas like northern United States, Canada and northern Europe.
Wood stoves are still used by 30 – 60% of homes in hundreds of rural and suburban counties around the country. Yet, the technology revolution that has swept household appliances in the last 20 years has by-passed wood stove technology.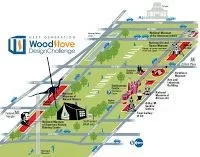 ​
Teams in the 2018 stove challenge will be competing for up to $50,000 in prizes. The teams and exhibitors will also have a chance to showcase new technology on the National Mall just blocks away from the Department of Energy, the US Department of Agriculture and the Environmental Protection Agency.
"This is a chance for students, back yard inventors, and wood stove manufacturers to re-invent this age-old technology for today's environmentally conscious and time-conscious consumer," said John Ackerly, founder of the Wood Stove Competition and President of the Alliance for Green Heat. "An affordable, smart wood stove is achievable and could help millions of families reduce their reliance on gas and oil while significantly reducing pollution," Ackerly added.
"This is the first Wood Stove Challenge to promote wood stoves that generate electricity to power everything from a cell phone to an entire home. Thermoelectric wood stoves, when integrated with solar PV systems and home batteries like the TESLA Powerwall, have the potential to make solar energy more affordable, reduce air pollution, and pave the way for a more sustainable energy future, "according to Ken Adler, Senior Technology Advisor at the Alliance for Green Heat and formerly with the U.S. EPA.
Previous Stove Design Challenges brought innovative stoves and a diverse array of stove and energy experts together on the National Mall in
2013
, Brookhaven National Lab in
2014
and
2016
.
Further details about participating and competing in this competition will be available late March, 2017. For more information about the 2018 competition, contact John Ackerly at
2018 Announcement
Resources
Webinars
Registration
Challenge blogs
Teams
FAQ for Teams
Sponsors
Organizing Committee
Request for proposals
DOE funding
2016 Stove Challenge
2014 Stove Challenge
2013 Stove Challenge
Consumer Resources
Stove Reviews
The Best Clean Stoves
Free Firewood Programs
Tax-Credits & Incentives
Federal
State
Policy Option Toolkit
News and Media
Breaking stories
Videos
Support Green Heating
Make a Donation
ABOUT

|

EMPLOYMENT

|

BLOG

|

FAQs

|

DONATE

Copyright © 2009 Alliance for Green Heat
Last edited by a moderator: