I posted early in February about two camellias I had received thanks to the generosity of our next door neighbor. The white one bloomed in February just before the major freeze. The red one had lots of tight buds.
During the freeze I pushed the large terra cotta pots right up against our house and put other pots around them and covered each one with old bed sheets and shade cloth for extra insulation. I left the backs open against the walls of our house. Thankfully the plants and pots survived, and one bud on the red camellia that was probably up against the house lived, too. It bloomed today.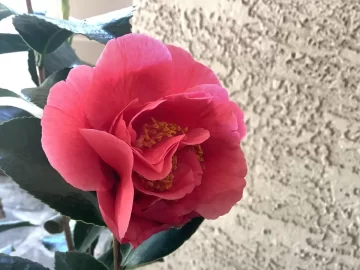 I'm very thankful that there is healthy new growth on both of these despite some freeze damage here and there.