Dearest Forum members,
My first post here. I've done a search & haven't quite what I'm looking for.
I have a Cub Portable Camp Wood Stove by England's stove works.
It's for a thin walled shed which my wife doesn't want me to burn to the ground.
My plan, so far, is to do double walled stove-pipe to the wall & double-walled chimney piping outside.
Would anyone tell me whether this diagram seems doable & whether you might recommend a manufacturer that makes stove & chimney pipe that could enable such an install?
I would be very grateful.
Many thanks for any advice you may have to offer.
Thanks again & stay warm.

-stovenoob21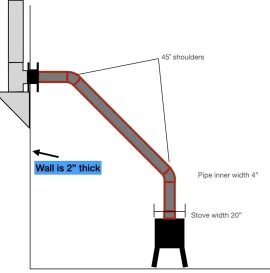 Last edited by a moderator: