Moderate Moderator
Staff member
Thought I would post a quick and easy adapter to convert from the threaded end of a chimney brush to the push lock (or whatever its called) connectors of the sooteater rods.
I like the sooteater (and rods) but on occasion like to run a poly brush in my stack as well. I didn't really care to have another set of rods around for the screw connection of the brush so I came up with a super simple adapter. It does require a 1/4" drilled hole and about 10 seconds of welding (come on, if you don't have a welder you NEED one or if not, phone a friend.)
It is two components that I had on the shelf, but could be had at a hardware store for about a buck.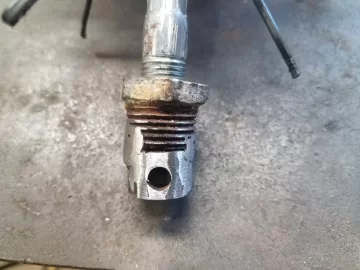 The two pieces I used was a plumbing fitting that would screw onto the brush threads and then a collar that was a nice snug fit to the sooteater rods - then welded together. Next - drill the hole that coincides with the push lock/release of the rods.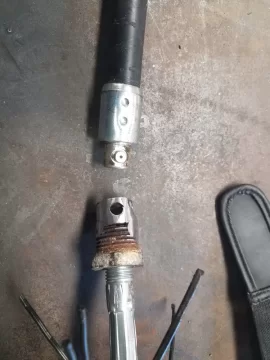 They should fit together just as the original couplers of the sooteater rods.
I am not sure how many folks find a use for both the sooteater and brush head, but if you do, this is a quick way to make one set of rods fit both units. I find that it works very well.
Note: I tightened the living daylights out of the brush head to pipe fitting so that if reverse was ever used, it isn't coming apart at that joint.