We recently bought a place on a lake to fix up for retirement in 5-10 years, in the mean time it's good enough for a cabin like place. It has a VC Winter Warm 2080 "small" date coded circa 1995 . Basically the same exact model as an Interpid II stove, just in insert form.
The main form of heat is an old fuel oil boiler. When I asked the previous owners, directly, about the insert, "we use it all the time, works great, no issues at all".
So I go to check this stove out finally a few weeks ago while we're here snoeshowing and snowmobiling, I didn't know it was a cat stove when we first bought it but I of course figured that out when I got into it I was able to look at it thoroughly. I removed the back plate to find.....the cat totally caked up and covered with 3-4" of ash alot of which I chouldn't even chip off of it. . After some more investigation I figured out there was supposed to be a refractory box, and it was partially still there,, basically just the bottom portion, but the front and top of it were completely gone, and it's gasket was gone.
It's fan needed new bearings, no way I was gonna listen to that thing squeal. The ash pan gasket was half gone.
So with no seal from the back plate to the refractory box and no top to the refractory box , the stove was effectively in bypass mode all the time. Which I guess works. But not as designed. I'm guessing it's supposed to produce alot more heat from a given load with the cat engaged. I also noticed, you can blow the top of this insert's refractory box out with chimney cleaning, all the crap falls right on top of it. I managed to find a new refractory for $213 (some places were $300, and a few were over $400 for that box?) , new 5/16" gasket for it, and a new ash pan gasket and a new condor cat. The chimney was cleaned, so, we'll give it a go here later today! I've never run a cat stove.
The firebox is super small. At home we have a North Star I installed and that stove is a beast, heats the 2400sqft home no issue unless it's really really cold. I'm guessing this is not that considering it's size. This is an old mining house probably 2100sqft and compartmentalized. Should be good enough to save some expensive fuel oil though.
I shouldn't have been surprised, like everything else in there, everything was on deaths door. In the first few months I had replaced both toilet valves, a couple faucets, water pressure tank,several plugs which where blown up, boiler expansion tank, the boiler was in a desperate state of repair although still working, I heavily cleaned that, changed all it's filters, controls that needed tapped to work, valves, and gauges (there wasn't a working gauge on it!), ran acid through it the whole 9 yards. They had just run everything down to within death. So, the insert shouldn't have really been a surprise.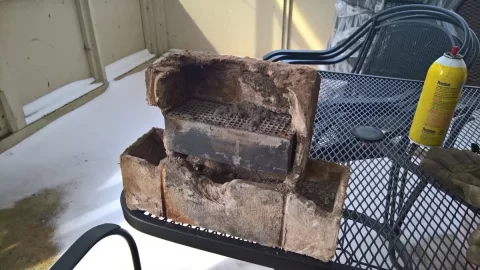 Last edited: