From Fahrenheit Technologies The Endurance 50F is a next generation, forced air furnace that combines the benefits of biomass fuel, with the convenience of self-cleaning, low-maintenance operation. The result is a high-performance heating unit that's easy to use, cost-effective, and satisfying to own. I am switching to propane. I know it will cost more, but looking for less upkeep.
Endurance burns shelled corn, wood and grain pellets, dried cherry pits and other biomass fuels.
At the heart of the Endurance difference is Cyclean, a patent-pending superior fire-feeding and self-cleaning technology that you won't find on any other furnace or stove. You'll be amazed at how easy it is to heat your home thanks to this exclusive technology.
Stove runs great. Used as only source of heat for many seasons. Only getting rid of because of the work involved in getting and storing pellets. Over the years have used corn and wood pellets without a problem. It is as easy as pushing a button to switch between fuels.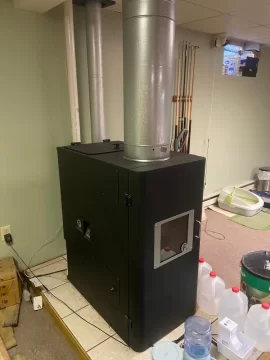 Last edited: