I have a Drolet 1800i with a blower. It is the primary heat source for my house. I clean the blower daily, after finding that it really gets dusty quickly. I turn off the blower when loading the stove to reduce ash getting into the blower. A couple times a week, I use a brush to further clean off the cylinders (fans). Keeping them clean maintains balance, and keeps them running quietly. However there is limited access to clean the inner part of the cylinders, and inner workings of the motor and basically any tight space. Really I should have been inspecting this routinely.
Yesterday as I was standing in front of the stove, sparks started flying out of the vent. I turned off the blower, and removed the lid to have a look. There was smoke coming from it, as the plastic burned. I couldn't see what could be igniting it. I took a small tool and started scraping between the tines and found there was lint/dog hair/dust. I looked at the other side, which was not burning, and pulled out about a teaspoon of lint. Once I started shaking the blower box, and really looking through it, I was pretty alarmed by how dirty it was. I wasn't taking it off the stove and really looking inside it, just cleaning from the it's seated position on the stove.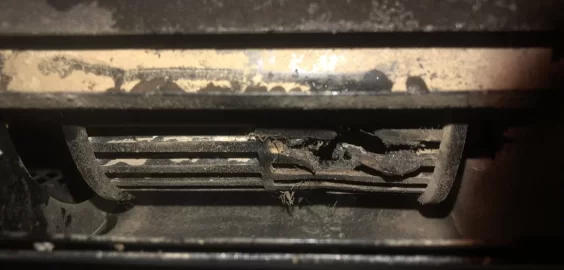 I'm so grateful I was standing there. My house could have burned down. I'm rather afraid to use the blower now, especially if not home. For today I have a box fan in front of the stove.
If I use it again, I think vacuuming the blower weekly is a must. But I'm not sure it will be sufficient. I'm wondering about other ways to really clean the tight spaces of the blower. Or is there a blower with a design that might be easier to keep clean? Or perhaps some sort of filter screen that might be safe?