TLDR: I got a new hearth extension after realizing I had the wrong kind and my wife/kids broke it before I could even install it. Then got mad at me for being mad at them. Happy Valentines Day!
For those who enjoy the story:
When I first got my insert installed I was brand new to wood burning. The stove sticks out a fair amount onto the hearth due to my small and oddly angled fireplace so I needed a hearth extension to meet the 16" clearance from the door. He sold me a Ember King steel hearth pad for protection. It made sense to me and off I went. The installer never mentioned it either.
Fast forward to now where I've learned a ton about burning...mostly from here and then my own experience this season. I noticed how hot the hearth pad was getting when I put my hand on it to do something and had to pull back. Took out my IR gun and it was 140

! Yikes. It sits right on my solid pine reclaimed hardwood floor...not good. I lifted it up and zapped the floor...125

...very bad.
Doing some research I find out that the steel pad is a type 1 with an R value of 0 so no thermal protection. Looking in the stove manual it states pretty clearly what kind of protection is needed: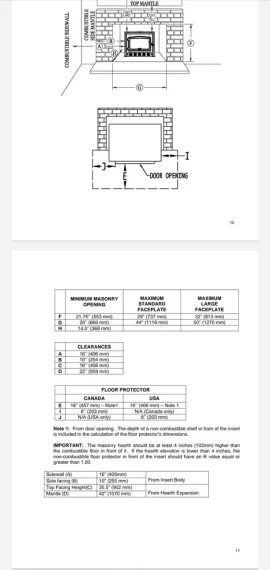 Measurement E is what we're talking about...16" from the door, makes sense. But below it where it says IMPORTANT it clarifies that if the hearth height is below 4" the floor needs protection with an R value >= 1. My insert is on a standard brick hearth so it's only 2.25" above the floor. So, I clearly had the wrong type of protection. I needed a type 2 with thermal insulation.
Looking up my receipts the Ember King was $279! That's an expensive and dangerous whoopsie by both the dealer and the installer (two different companies). Im thankful nothing bad happened and the floor doesn't seem damaged. So I took it back to the dealer and explained what happened and thankfully they understood. I was ready for an argument but they were apologetic and took back the steel one. I didn't want a big thick legit hearth extention you'd sit a free standard on, I wanted low profile, so they set me up with a simple type 2 option with R = 1.56. It was inexpensive at $90 and will do the trick. Looking at it it was very brittle when not laying flat but if I could just get it into position it would be fine.
Ok good. We all know what happened next right? I put it down to get changed out of my work clothes before installing it and when I come down my 5 year old had gotten scissors and while my wife is folding laundry ***right next to him*** he opened the box while I'm upstairs. The thing is on the ground literally snapped in half. My brand new extension I researched and spent hours getting. Ugh. Of course it was my fault for leaving it out too...not the person who did it or was watching him!
Anyways. I hammered the metal casing back together the best I could. Im not in a position to throw away $90 for a new one while this will still work so I'm going to use it. That said its going to bother me every time I touch it and feel it's not attached right anymore...which is all the time.
So yeah, fun times. Here's a pic. You can clearly see where it snapped. She says it's flat and looks fine but it is sending my OCD into overdrive. I hate it. Oh well...c'est la vie!