I have an old stove installation in our cabin that I want to bring up to code.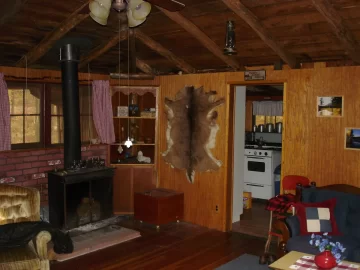 Right now the single wall stovepipe is about 15" from the wall, a bit less than the required 18". My initial thought was to add a heat shield to the back of the pipe, but the other option is to go with double wall pipe instead. However, the chimney pipe only protrudes about 8" from the ceiling, and as I understand it (please correct me if I'm wrong), that needs to be 18" as well? So another option is to use a short length of double wall pipe at the top, and keep the single wall (with added heat shield) down to the stove.
I know double wall would improve draft and reduce creosote buildup, bout OTOH the single wall would mean more heat into the room, and the old stove isn't terribly efficient to begin with (I want to replace it, but not this year). The wall behind the stove itself is OK, with brick face over cement board spaced out from the wall.
I'm not sure what brand the chimney pipe is (I'll check this weekend). I presume I need the same brand adapter to connect the double wall pipe to the chimney?
Do I need an adapter to connect double wall to the existing single wall pipe?