Moderator: Posts moved to a Castine operation thread.
The Castine starts secondary combustion pretty quickly. I started out going by stovetop temp for closing the air down but found that it took a long time for the thick stovetop to warm up. Meanwhile, the fire was showing me that it was time to start closing down the air. This could be with a 250º stovetop on a cold start.
Thanks, begreen, that's a good point. Would you say it's okay to start closing the air down once the secondaries have started? Up to now I have been waiting until stovetop temperatures reach ~400 degs on my Castine before closing the air down gradually, but by that time the fire is usually pretty much roaring and I would imagine that flue temperatures might already be pretty high. I don't have a flue thermometer to check, as my stove sits right outside an old masonry fireplace opening and the pipe exiting the stove almost immediately disappears behind the block off plate and up the masonry chimney: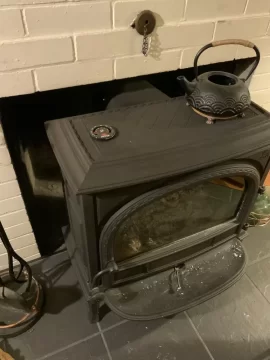 So I don't know where a flue thermometer could even go and also be readable? (I realize that this question is a bit off-topic.)
bigealta, thank you for the nice video. I saw that you stack your splits almost all the way to the tubes. Just the other day I realized that those two protruding pieces on the back wall of the Castine are actually markers indicating the maximum load height (the words "maks vedinlegg" written on the wall mean "max wood insert" in Norwegian, according to Google Translate). Do any of you Castine owners actually heed that guidance? Seems like it would not allow for a very full firebox.
Thanks everyone, this is such a great forum.
Last edited by a moderator: