Well, I'm looking to replace a very old and inefficient wood stove with brand new.
Question about this current setup and how to support new chimney, that will mate to Selkirk DSP 6" double wall pipe that I already own (ideally).
The roof support beams are exposed and above the beam is the ceiling paneling which I plan to keep. Above that I assume is roof deck and several applications of shingles. We do plan to re-roof the structure eventually with a metal roof with a layer of rigid foam insulation under the metal roofing.
Picture is of existing stovepipe exit thru ceiling. Pipe measures slightly over 8" circumference (OD) so I assume 8" single wall pipe, up thru shown assembly. Same circumference on existing steel chimney. I plan to scrap the pipe/chimney, but will be left with existing hole.
What are the options for supporting thru this ceiling? Is internal framing required and if so, to two beams to support something like the 6" Selkirk Support boxes that provide the 2" clearance?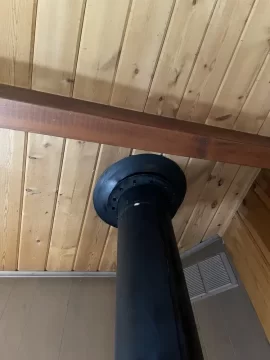 Last edited by a moderator: