More than one way to skin this cat.
Wife and I are canning salmon and tomato this year, the latter as recipe ready, ketchup and salsa. Our canner is rated for 24k btu/hr, max. Once it is up to temp and pressure it doesn't take a very big flame to maintain. The Presto line, from internet research, is generally limited in the manuals for each to 12k btu/ hour. Ours is an All American 921, I don't know the max btu/hour for the rest of the AA line.
My mom canned a little bit indoors, she blew up a pressure canner one afternoon inside the house and started freezing pretty much everything that could go in a zip loc bag. My grandma, her mom, canned everything she could get her hands on, indoors, in Kansas, even when outdoor ambients were +108dF. Just open a window and have some iced tea dear.
There is a group of inexpensive propane grills out there rated at roughly 30k btu/ hour, but they typically have a linear burner, a line of flame that won't fit under a canner very well, not a round burner.
The short version is you need to choose between natural gas from a buried hard line and find out your local price and delivery pressure; or choose propane and figure out what can meet your needs.
I bought two propane burners at a yard sale yesterday AM, the previous owner used to boil birch sap down to birch syrup (maple is better), the burners I bought came with sturdy stands that can support my canner, and burner heads rated at 58k btu/ hour. I paid $20 for the pair.
First pic is one of the burners I bought, after cleanup, adjacent to the rust I brushed out of the pair. This is clearly a very common burner on amazon, they are under $20 for the bare burner head. Be advised a "propane burner" usually has legs on it, a "propane burner head" is the thing you need to choose.
A visibly rusted propane burner head is not going to work right. You got to take it apart and get busy with a wire brush cleaning out the burner grooves in the top plate and the cup the top plate fits in. You do not have to polish the tube where the fuel and air mix, but get the big chunks out. Screws on mine were #10x24 at 2.5 inches. I did use some high temp anti-seize on the screw when re-assembling the burner heads. Coming soon to a hardware store near you, metric threads.
I am not a certified gas technician, and I do not have a calorimeter. I am estimating btu/hr from my propane burner heads based on my empirical experience with my oil fired boiler - 100-120k btu/hr, my propane fired weed burner (50k btu/ hr) my BK wood stove (50k btu/hr max output for the 30.2) and my electric cook stove with four burners and an oven on a single 220v/50a breaker.
58k btu/ hour would require a 220volt breaker at 80 amps. My indoor cookstove is on a 50 amp breaker. I have done a 2 gallon boil on the electric cookstove for home brewing beer. It was brutal and lengthy.
I am fairly confident the pictured burner head is capable of 58k btu/ hour on a 0-20 psig regulator with a #45 drill size (0.085") orifice at full roar. I have done it and this thing is a monster. What this burner cannot do is run efficiently (blue flame with yellow propane tips) much below about (ish) 25-30 k btu/ hour. Second pic is my canner while maintaining 10-12 psi in the canner for 110 minutes. I probably was needing about 5-10k btu/hour to maintain temp in the canner during the processing time.
So for canning, on the one hand you want max BTU to bring everything up to temperature quickly, but once the canner is up to temp I don't want to be paying $5.00 per pound for propane that ends up as soot on the outside of my canner that needs cleaned off. Running the above setup requires the air shutter on the burner head to be more or less fully open.
For my other identical burner head, I am using a regulator rated 0-10 psig (squirrel!) and a gas orifice at #60drill bit, (0.0400 inches). Clean burner head. For pic three, I have the air shutter a bit more than halfway closed, and a contender for pressure canner maintain small efficient flame. For the last one, with the fuel at full roar and the air shutter unchanged, I have about (ish) 30k btu / hr I think.
I am close enough to run a second batch through the canner. I suspect I can get two canned batches out of one full BBQ tank, but I am not sure yet.
For my All American canner the caution in the manual is flame should not be coming up the side of the canner kettle. That will cause the kettle to heat unevenly and lead to sealing problems at the lid.
So for psi v- psig imagine you have an empty pressure vessel, no valve on the top. Maybe a scuba tank. It is open to the atmosphere, 14.7 psi inside and out. Get some pipe dope, screw a valve into the top of the scuba tank. If you measure the absolute pressure in there, it is 14.7 psi. If you put a scuba gauge on there, it is going to read zero psiG, because psig is measured pressure minus ambient pressure. If you got a precise enough gauge on your scuba tank and don't breathe, you could calculate your depth underwater by watching the psig drop as you go deeper and deeper underwater. If you took the "empty" tank with you filled to 14.7 psi at zero feet above sea level, it would actually display a negative pressure psig as you take it deeper and deeper.
If you are running an All American canner other than the 921, I haven't read your manual, and don't know your max btu/ hr. If you got a Presto and need 12k btu/hr max, try looking at wok burners on amazon. The small ones might work for you. I did find a 25k btu/ hr wok burner on Amazon, made in Tennessee, but it is not available with no due date. I was going to call them Monday, but I think my 0.0400" orifice with 0-10 psig regulator is going to work for me. I have enough confidence to try another cook with 0-10 psig regulator, 0.0400" orifice and $70 worth of salmon in 19 half pint jars.
There is a metric spec for gas orifice sizes. Caveat emptor, you have been warned. The math is straightforward when you realize it needs to be done.
The upside to canning outdoors is you aren't heating up the house in high summer. The downside is Mr. Wind can blow your burner out for you, and you got to do celebrity chef stuff to get the burner relit before your system drops below minimum target pressure during the processing time. I am really looking forward to canning some berries. Eight minutes at 10psi is going to be a cake walk.
There are a frustrating number of food bloggers out there running 58k btu/hr burners under their pressure canners and raving about how fast they can get the system up to processing temp/press. Whether or not they have gotten away with that cycle after cycle, year after year, to quote the movie _Chef_, "that was left ambiguous."
I would not choose the burner head I have if I needed 12k btu/ hr as my max. The closer you are to full roar, max throttle, the harder Mr. Wind has to work to blow you burner head out. If your burner head needs full throttle to make 12k btu/ hr, your are still going to be near half throttle to produce 5k btu/hr once you are up to temp- and you will have come wind resistance in your pocket.
For now I am keeping my fat orifice and 20 psig regulator, but if my small orifice and 10 psig regulator meet my needs for water bath canning I will send the fat one down the road to a syrup maker. High BTU for getting the canner up to temp is good, but for raw meat especially, efficiently maintaining temp is more important.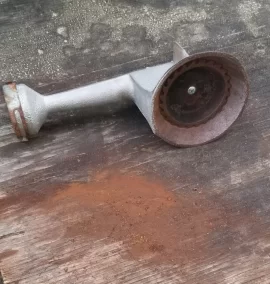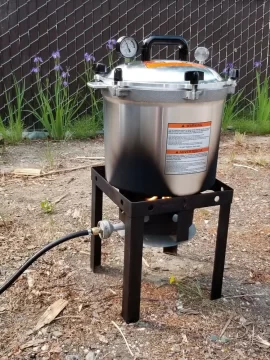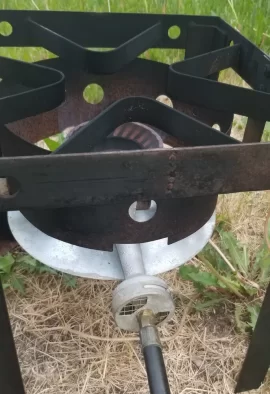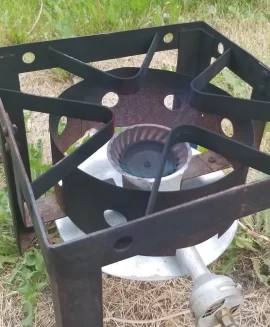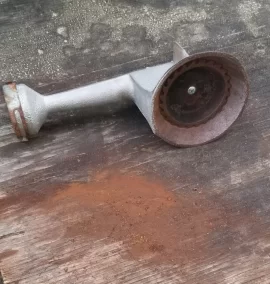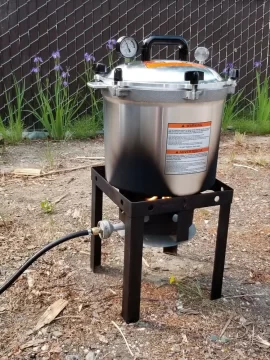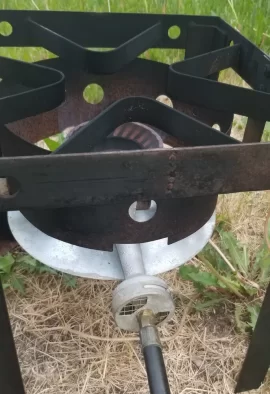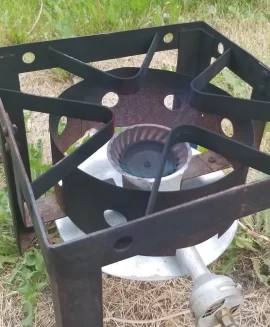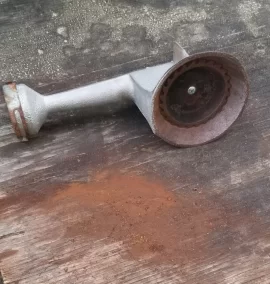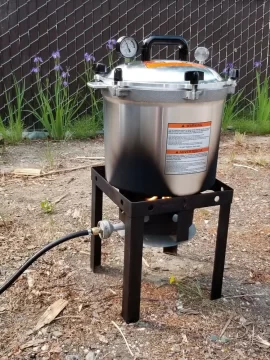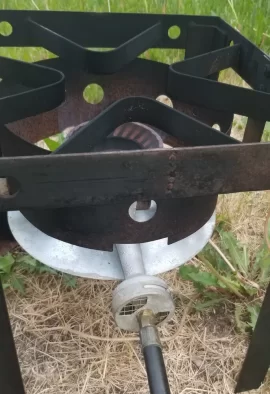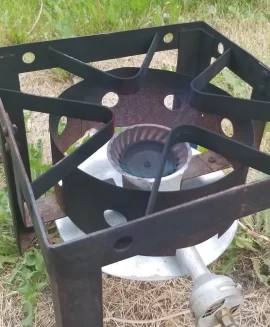 Last edited: