Well, it took nearly two months to get the stove installed and permitted after pulling the trigger, but we've been burning for a little over a week now and things are going really well. Thanks to everyone for helping us pick out the stove (Hearthstone Clydesdale, which is soapstone lined).
The burns have been going really well. I usually throw in two bio-bricks with every load of nearly seasoned Hickory, and that's been working well. Keeping the glass relatively clean with no smoke coming out of the chimney when it's rolling. Overnight burns haven't been a problem at all so far...may change a bit as it gets colder. We've been burning 24 hours a day since it's easier than re-starting a fire from scratch. It wasn't originally our plan to solely heat with the stove, but it's been easy to do...so the furnace is only being used for hot water at this point!
I couldn't find a good ash rake online, so I built one (as it seems many people do here). About $15 in parts from Lowe's. The bottom is some sort of masonry trowel, which is connected to a steel tube painted with heat resistant paint. I like how it came out, and it's been working well.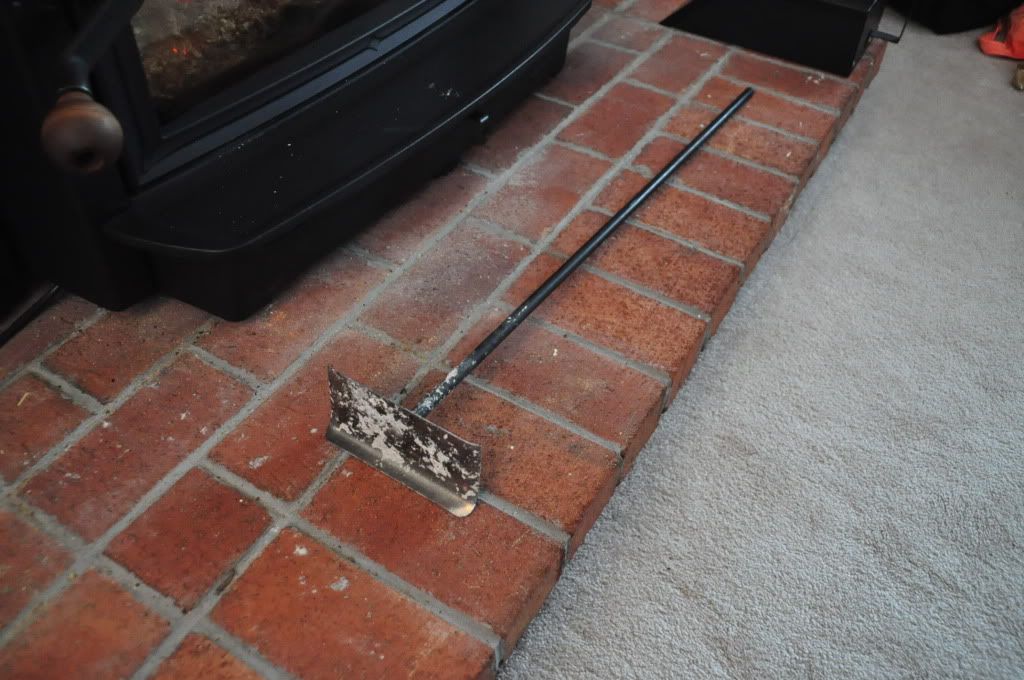 Anyway, thanks again for the help. I'm digging this burning thing so far...
ETA: The fan cord is bothering me more than I thought it would. I've come up with some ways we can wire it to be hidden, and we'll be getting an electrician out here soon to help with that.