Hello folks!
I am new to the wood stove world (my partner has had one before, long ago) and I need some help figuring out if we're making a good decision here.
Just bought the house and moved in this summer—and are gradually discovering all the exciting DIY mistakes the previous owners left us with 🤪 the situation is a little unusual, so bear with me.
The house was a small brick ranch, and then they stuck on a 1200 sq addition—one big great room (and associated basement). Peak height is 12'4". The old house is heated with a standard gas furnace, but the great room has no HVAC at all—it is only heated by a freestanding wood stove. The two parts of the house are very distinct temperature zones; you feel it clearly when you step through the door between them, and the addition is damn cold in the morning when the stove is out and the furnace is heating up the old house just fine. The kitchen is in the addition and there's a bathroom as well, so it's important that the heat last a long time to prevent any frozen pipes in extreme weather. We're in Wisconsin, so it does get pretty cold.
The stove they left us is… less than desirable. We're ready to replace it (yes… would have been great to attend to this six months ago) with a new, clean, efficient stove. We've almost settled on a Hearthstone GM60, but I keep reading about all the troubles people are having with smoke rollout/draft and am wondering if we're making a mistake. I'm starting to understand the basics—make sure to use dry wood, have a tall enough chimney, and build/load properly—but I'm nervous we're gonna get this thing and have a big smoky mess on our hands. Any reassurances or warnings to offer? And does the 60 seem like the right size for our space?
Our sweep/installer advised that the old pipe all needs to go (except the box that goes through the crawl space), which makes sense as it's all beat up and connected strangely—like I said, bad DIY stuff going on here. So we'll be getting pretty much an entirely new chimney, and can size it as needed; seems like at least 14' from what I've read. There's no problem with the 3-10 rule. We have woods around the house but not super close, there's probably at least 15-20' between the chimney and nearest tree. Advice on how tall to go?
Also—double or single wall pipe? Inclined towards single to enjoy the heat from the pipe, but I don't know what I don't know.
There's only 14" of clearance from the stove pipe to the one wall, but installer said it's ok because the wall is tiled. 19" clearance on the other side. Does that seem ok?
Reasons we're interested in the GM60:
Can get it now

Both efficient and clean burning
Aesthetic
Comfortable with a cat stove
Long heat length—important
I was super interested in the progress hybrid from Woodstock but they're months out on production. Also considered the BK Princess but it looks like it has a shorter log length and shorter burn time, and I haven't found one locally yet.
Here are pictures—happy to add any details! Thanks for any thoughts and opinions, the dealer we'd be buying it from wasn't super helpful with our questions. Installer (sweep) was much better but not as familiar with this particular stove.
Why they put that little bend at the top… we'll never know! When the new pipe runs straight down the clearance to the wall will be 14". Currently it's 16".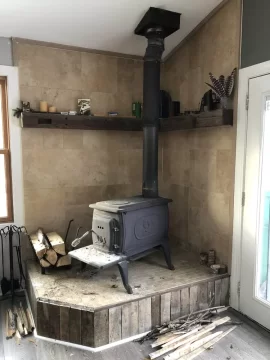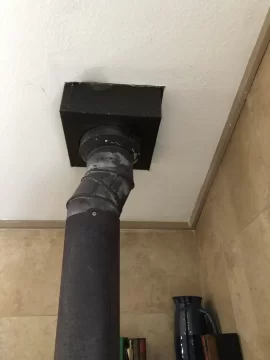 Big room… tall ceiling