FIREPLACE INSERTS - A SHORT INTRODUCTION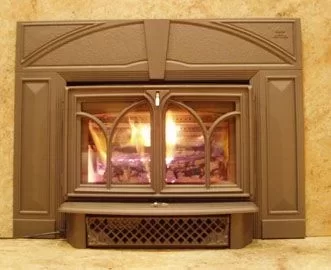 Fireplace Insert (Jotul)
Introduction
If you enjoy using your fireplace but don't like the associated energy costs, you might want to consider purchasing a fireplace insert. An insert is basically a wood stove designed to fit into a conventional open fireplace. Like wood stoves, new inserts must be EPA certified, making them clean burning and highly efficient.
Inserts are made from plate steel or cast iron and most have glass doors so you can see the flames. These appliances fit into the opening of the fireplace, with some models protruding onto the hearth. An insert which is extended out may be more efficient because the sides, top, and bottom provide additional radiant heat. Inserts often have blowers, which can significantly improve efficiency and the heat circulation. Blowers are usually mounted in the front or along the sides of the insert. Some blowers are controlled manually, while others are regulated by a thermostat.
Installation
In the past, most installers placed inserts in the fireplace without any chimney connections. This method, in some cases, allowed creosote to build up inside the fireplace, presenting a potential fire hazard. To prevent this, the National Fire Protection Association (NFPA) now requires that inserts be installed with at least (minimum) a positive connection to the chimney. Inserts must have a connector between the appliance outlet and the first section of the flue liner. This sends the smoke and gases up and out of the chimney more directly, minimizing combustible deposits that condense in the fireplace. Most fireplace insert installations will benefit from a full relining of the chimney, because the smaller pipe size will provide a better draft as well as an added margin of safety.
-------------------------------------------------------------------------------------------------------------------------------
We at Obadiah's Woodstoves strive to offer you top of the line stoves at the best prices on the web. We carry fireplace inserts, wood stoves, pellets stove, central heaters, gas stoves and fireplaces, chimney pipe, and even hearth accessories!

Our goal is to provide excellent customer service. We will work with you to answer all your questions and make sure that you will be happy with your purchase for many years to come. Shipping direct to your door is no problem…give us a call toll-free 1-800-968-8604 or visit our web site!
---------------------------------------------------------------------------------------------------------------------------------
Inserts may need to be removed when the chimney is being cleaned and maintained. These appliances are heavy and awkward to handle. Removal is a often a job best left to a professional chimney sweep. In some cases, however, you do not have to remove the insert to clean the chimney. The insert can stay in place during cleaning if you install a full relining system, a stainless steel pipe that connects to the insert and goes to the top of the chimney.
Cost
A good quality fireplace insert usually costs between $1,200 and $2,200. This price may be higher if you need to purchase extra accessories such as a blower, brass or gold door, and extra trimmings. Installation runs from $400 for a direct connection to as high as $2,000+ for a complete relining.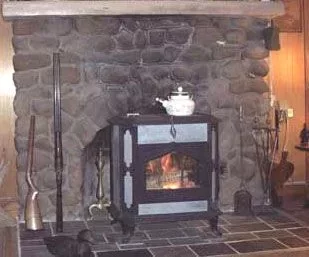 Hearth Stove -vented into fireplace
Some homeowners choose to install a Hearth Stove instead of a fireplace insert. A Hearth Stove is simply a woodstove that can sit against or near the opening and vent up the fireplace chimney.
Zero Clearance - Prefab Fireplaces (also called Factory-Built Fireplaces)
The question often arises as to whether fireplace inserts can be installed in metal factory-built fireplaces. The answer is "yes and no". In general, you cannot install EITHER a woodstove or a fireplace insert into an existing factory-built fireplace. The exception is only when the specific insert of stove model is "listed" for such application. This means that the sales brochure and the owners manual of the insert specially mentions and addresses installation into factory-built fireplaces.
You can identify which type of fireplace you have by looking up at the damper area (from inside) and also by looking at the exterior of your home. A factory-built fireplace will have a round damper and a round pipel, usually 8-12" in diameter. A masonry fireplace will should have an orange clay liner, which is often visible at the chimney top - from outside the home. The damper plate on a masonry fireplace is usually rectangular, and appox. 6" x 24".
Last edited: