Hi,
We are planning a kitchen remodel and will probably update the flooring to be consistent throughout the first floor which includes the room with our insert. I'm trying to figure out how to deal with the floor going around the hearth.
Our insert requires 16" with non-combustible floor protection with .5" of material with a k value of .84. I forget the conversion from K to R. Our existing hearth is 8" too short so we use the temporary pad when burning. Works fine but I don't love it and would like some more permanent solution or something where a temp extender isn't oversized.
Options:
1. Extend the hearth with another two rows of brick. This isn't feasible, the room is already narrow and 8" of a raised hearth will steal too much of the room.
2. Put 8" of tile in front of the brick. I'm worried this would look funny and not be at the same level as the rest of the floor or require some transition piece to cover the gap.
3. Remove 2 rows of brick so that the door is close to the drop. I would then use the same hearth extender but it would now go out only go out 16" from the door instead of 24" like today (8" hearth + 16" extender). We would need the flooring to be like and flush to the brick without a quarter round so the extender can be flush. Maybe cut a little into the brick so the new flooring can slide under.
Last thought is whether we do engineered or solid hardwood. LVT and wood look tile out of consideration at this point. Engineered may be better for the kitchen and humidity swings from the stove. Solid may be better if the dogs are tougher on the floor than we want and will let us refinish more if needed.
Any thoughts or ideas I haven't thought of?
Thanks.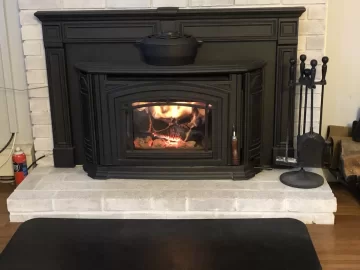 Last edited: