Hi guys, we just bought a house and I've got a supposedly "functional" fireplace that needs $6500 in refit.
First, and most pressing, there's no cap on the top of the fireplace. No crown either. No nothing except brick! (see photo)
Eventually, I'd like to run a metal chimney liner down to the fireplace. But for the moment, I just need to keep the snow and rain out. What are my options here if I'm thinking about eventually using the fireplace? The inside of the opening is 9"x13" and the outside is roughly 15.25 x 19.25.
Could I just do a chase cap? A pre-made 16x20 chase cap looks like it would fit, and if I'm going to do a stainless steel liner anyway, perhaps I could throw a rain cap on top and call it good until I get up the ambition to deal with the next step.
Next step = the liner. Or lack thereof. It's just bare brick as far as I can tell. I think I need to install a stainless steel flexible liner. Since this is a fireplace, it looks like I would use a mesh base plate to accept the liner at the smoke chamber -- and would then need to parge the smoke chamber where the liner terminates. However, the damper is in the way of the smoke chamber. Removing the damper looks like it will involve some destruction! And after removal (if necessary), is the best option to install a top mounted damper?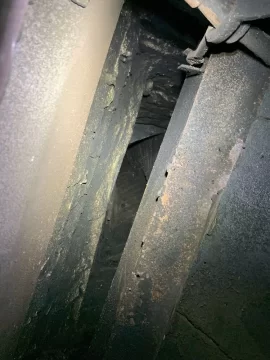 And while I may be decent with DIY, I can imagine everyone yelling "safety first!" quite loudly. But with 3 kids on one teacher salary, I can't afford the $6500 quote to fix this baby up. So some might say I should just live without a fireplace.
At the very least, I need to cap the top of the chimney. I don't really want any squirrels coming to live inside this winter.

Recommendations?