Of course, this happened right when we were getting single digit temps. Thankfully, we should be returning to 30's - 50's by the end of this week. Here's what was happening.
1. CAT temp would be in the active range. Flame was going good. As soon as I engaged the CAT all flame would move to above the wood (secondary) and roll for a few minutes and disappear.
2. Stove would not get up to normal temps with the CAT engaged.
3. Horrbile amounts of coal build up. Single digit temps might've attributed to this.
I knew this was the issue. See below.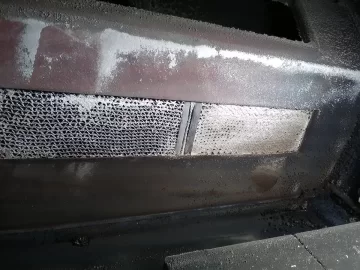 All 3 CAT sections were as bad as the one to the right.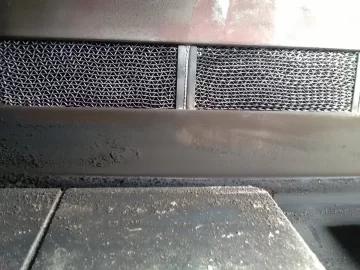 All Clean. I used a shop vac and actually a plastic bristle brush because they needed a light amount of scrubbing. You're supposed to be gentle on these things when you clean them. Also, the one on the right looks worse from an angle. If you're directly under it, it will look like the one on the left.
I started burning at the end of October. I was for the past couple of months cleaning the ash out every day but I would try to sift through it and try to slide the coals over the top to the side so I can save them for re-loading/lighting. I've encountered this issue before. I think I'm gonna try to just not play in the ashes as much as possible. If the ash is hot it floats up a lot. Anyways just sharing so people with this model know what's to come. Take care guys!