My daughter recently (December) purchased a home in Merrick NY. There is a NG fireplace in a great room that was an addition to the house made many years ago. I visited her for 6 weeks during December-January and the FP was working fine. It is controlled by a hand held remote control. I believe it is B-vented. A few days before I left NY i put it on and I saw the flame but it went out after a few seconds. I used the remote again and it relit and stayed on. Since I have left NY, the unit does NOT even light anymore. New batteries in the remote and still nothing. My son-in-law has been trying to troubleshoot. The model number is
KBV-38REN
. He has made numerous calls to fireplace stores and they have all said parts are no longer available for that model. I have searched the internet for info/parts/manual for the unit with no luck. At this point I suggested they buy a new gas log set to replace it. One local fireplace store that they spoke to said most of them put out around 50k btu. The KBV-38REN is rated at 24k btu. The person at the store said the bricks might need to be replaced to handle the 50k btu. So my questions are:
1. Does that seem accurate about the bricks?
2. Is there anyway to determine what the bricks are rated for?
3. Anyplace where we could find parts for the unit?
4. Any other suggestions or solutions?
Obviously they want to minimize costs and hopefully will not have to replace the entire setup.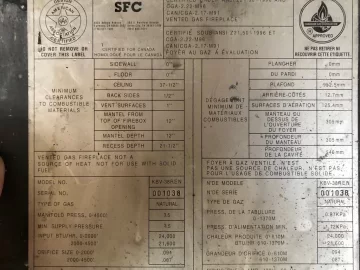 Last edited: