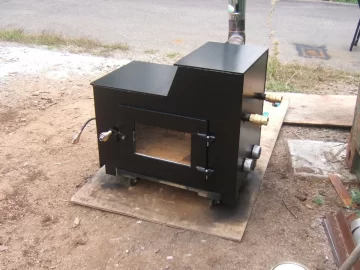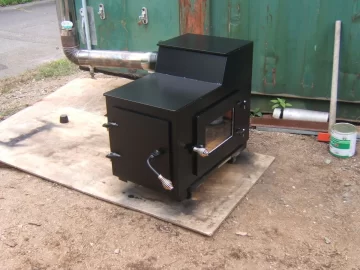 this is basically an updated version of a fisher stove with a baffle and a reburn section added into the design, as well as a glass window in the side for aesthetics and ambiance. It is a little smaller on the outside than a Fisher "Momma Bear" due to the need to match to the japanese fire bricks (weird sizes) but internally it is only slightly larger than a "Baby Bear" due to the same issue (brick size). The bricks are basically 220 x 105 x 54 in mm or 8 3/5" x 4 1/10" x 2 1/10" so the interior dimensions are smaller than you would think.
The plate steel is thicker too as they the options were to go down in thickness from .25 to 6 mm which is .2362 or go up to 7 mm which is .2756 for the sides & bottom and as far as the top plates went, I arbitrarily went up from 5/16" .3125 to 10mm which is .3937, (just in case the reburn was more enthusiastic then expected).
The frames for the front and its door are all 8mm plate with a 5 mm bead welded to the plate to form the channels for the sealing gasket rope which also helps to keep the possibility of warping down. the same was done for the door with the viewing glass.
Just test fired it yesterday up at the cabin to heat the paint up and get the smell out of it prior to moving it into the cabin. With a 50/50 mix load of soft and hardwood it burned for right at about 4 hours with full heat output (600 degrees Fahrenheit measured with a IR gun on the bottom of the two plates) and 2 hours with just coals. that was with the primary air-feed and secondary air-feed (re-burn valves) wide open. I think that at the reduced levels and the re-burn set correctly it should burn for a full 8 or 9 hours.
one of my questions is does anybody have any idea on how large the re-burn holes should be? I drilled the holes with a 3.5mm bit so a little larger than 1/8" would 1/4" be better?
The water valves on the back control the secondary air (reburn).
Also the biggest problem so far is keeping the glass clean as i did not make an air wash system for the glass. A member of a chainsaw forum I am on suggested a top down wash right above the glass he thinks I could take the same 1"square pipe I used for the secondary burners and mount one above the glass with 1/8" or 1/4" holes and it should be sufficient, any thoughts on this?
Thoughts and critique are welcome.
Last edited by a moderator: