Hey all=
I installed my T 4 myself 11 years ago and have been using it as my source of heat in my home every winter since. I clean and inspect the chimney every year prior to each seasons start up. Last night was chilly enough to light a small fire so I did. And I discovered a crack in the door glass that runs roughly from the upper left glass clip ( hardware that holds the glass in place ) toward the center of the glass- crack about 6 inches long. I do not remember seeing it there last year so I am assuming it happened on firing up this year? I have several questions.
- I am assuming that I need to replace the glass for safety sake even though this is only a crack ?
- What would have caused the glass to crack now after 11 seasons of use with no cracking ? Anything I need to check on the stove?
_ I found a company online that sells " pyroceram " ceramic glass cut to order online - has anyone here used this product and can endorse it?
- Do I have to remove the door in order to replace the glass ? If so how? I looked online and in my owners manual and see no information as to how to get the door off .
- I know there is a gasket in there, I assume in between the glass and the door metal itself- is there supposed to be any gasket " cement " between the door and glass ?
Any information or help is appreciated- I am a fairly handy individual but have never tackled a job exactly like this one and there seems to be little to no information on my model. Thank you in advance.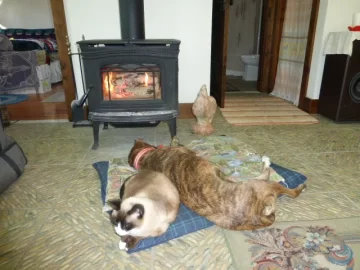 Last edited by a moderator: