I got rid of the old 1985 Preway fireplace, which was a huge fire hazard that was not built to code and had a ton of safety issues. Once the old unit came out, all of the issues inside the chase were seen - all the insulation over the years fell and was laying on top of the fire box, the cap had no supports and was ripping and the chimney pipe was pulling down into the chase, plus rain water was pouring into the chase every time in rained. It was a mess and they fixed it up in there and gutted it and even with it off now - the house is significantly warmer now.
I hired Alaska Company Inc in Hawley, PA to do the job.
Before and After pic: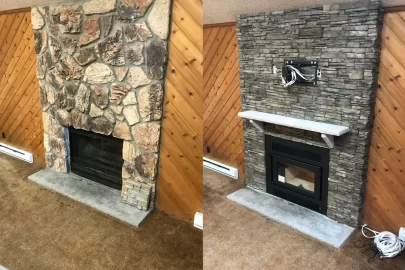 Install pics attached. I am waiting for the cap to be made and installed. Everything else is done. Yesterday the stone was sealed and they drilled in the TV mount. I expect to have the cap on hopefully this coming Saturday, and will do my first burn then.
Last edited: