Finally have been able to put the splitter through its paces the past three mornings. Using it to split oak has left me with a less than enthusiastic feeling. Dont misunderstand me, I do "like" the splitter, it does work good and splits everything I put in front of it. However, it seems to split slower then the few vids I have watched, both the DHT 22 or 25 ton, at times. And it gets VERY hot which is my primary concern and issue.
Realizing that not all wood is the same and that even oak can be different makes it nearly impossible to make direct comparisons. But, the heat it generates is something that can be compared. The splitter gets so hot you can not place your hand on the ram. And even the tank is so hot that to place your hand on it for a full second is painful. The hydro fluid level is between min and max per the dips stick.
The past three morning working temps have been from 60 to 80 degrees with every morning having a slight calm breeze. The coolest morning was Weds and I stopped splitting by noon with a high temp of about 65 degrees. The tank and ram were just as hot that morning as today when I stopped when the temp was about 80 degrees. I did take breaks about every 60-90 minutes, working three or more hours each morning.
It seems that heat is not uncommon with these type of splitters due to the small tank size. None the less, does this seem normal? Should I drain the aw-46 and refill with aw-68? Splitting below 50 degrees most likely will never happen. Splitting above 80 degrees will.
Also, I emailed DHT a couple days ago asking what the engine rpm's should be set at. And what the hydraulic pump optimal rpm is for best performance. They have not responded yet. The thinking is maybe their is a little more power left if the engine rpm's are below the correct setting.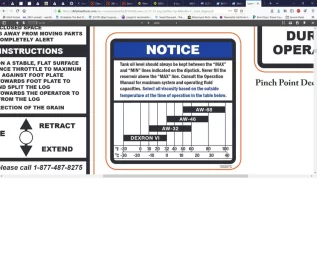 Last edited by a moderator: