I recently had a large white pine cut
To quite Chief Brody from Jaws, the tree guy needs to get some bigger gear for this white pine. The height from the ground up the first live branches is about 50 feet and the base is five feet across. Not sure of the term (choker) but the rope that he wraps around the tree to work his way up...

www.hearth.com
Now I need to deal with it. It was a bit smaller than I thought (48" at the stump versus an estimate of 53") . I quickly counted 120 rings but it could be plus or minus a few. The outer rings are quite tight together. The stump cut didnt show any rot but there was an ant tunnel and it led to some minor ant galleryies at the center (no ants pouring out). I bucked the log into lengths, but they are aligned so I can only see one end. My guess is the ant galleries are "ring shake" or possibly the tree got "topped at one point. The upper section has lost more a few terminal buds to weevils so it could be a dead top worked its way down at one point. There is lot of healthy wood but there was a 6 degree lean to the tree so there will be some compression wood .
I started stripping the bark on the first 10 foot log. It comes off with bark spud but is not going to be as easy as I would like. The bark has to come off as pine borers lay their egg in the outer bark and as they grow they tunnel into good wood. Get rid of the bark and no borers. (sorry for the out of synch photos.)
The only access to the tree is from the top end so my first log to be processed is about 30" diameter and 10' 6" long. Too big for my friend's sawmill and too big to handle easily. So time to noodle the log. The next three logs are only going to get bigger diameter but straighter grain.
So first thing to do is set up a guide and use a beam jig to run a straight cut with my regular saw about 14" deep. Then chase the cut with a borrowed big saw set up for an Alaskan mill with a 36" bar. Its a beast. So here was my handywork earlier today. About 30" dia on the small end. Lots of big stubs so the grain will be wavy with knots . A person on a another forum said he used to deal with wood that big and would split it rather than saw it. I tried that this afternoon with a 4 ton porta power. It opened the cut up a bit but I had to saw all the way through before it split. As of now it is in two halves waiting for me to drag them out and cut them to 28" wide. The bark up in this section of the tree will not peel off, so it needs to be cut quick. I expect it will be quite knotty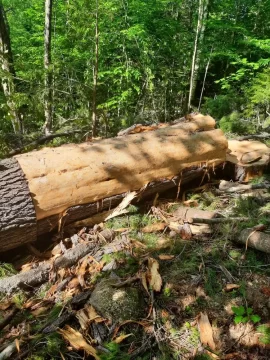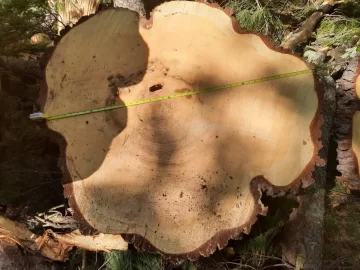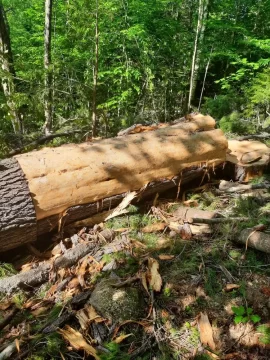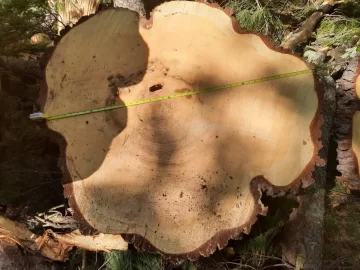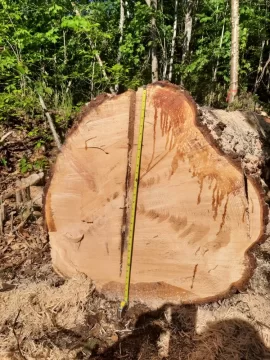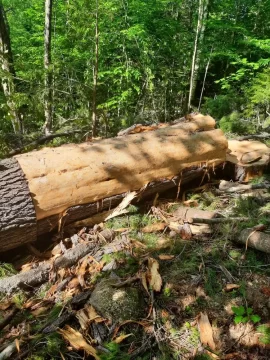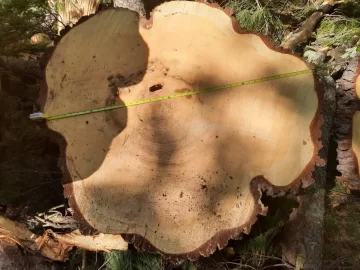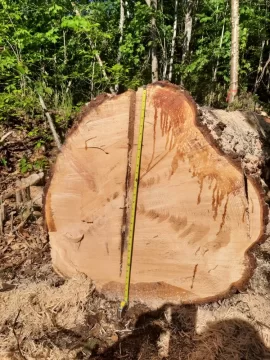 Last edited: