My third winter on the Keweenaw is almost over (yes, I know it's almost May) and we have burned almost 5 cords of wood. I finally found a reliable wood cutter that supplies me with good maple at a good price (for the area) so I ordered two years worth. Now I need to stack 10 cords for seasoning. I've decided to build holzhausen's. My plan is to build a cover of corrugated roofing material to shed ALL the rain. I may build one with the traditional top to do a comparison, we'll see.
They are being built on deep gravel so drainage is handled. I initially was going to use ironwood poles for the foundation because we have tons and need to thin it out at some point. However, I also have a few 2x4s in the garage so I decided to use those instead. I'll thin out the ironwood some other time. I'm building two that are 8 1/2 feet around and 5 or so feet high. However high it needs to be to hold 5 cords.
So, here was the initial base:
The long boards are 4 feet and the short are 2 feet long. At the perimeter there is about 16 inches between the ends.
The fist thing I noticed when I began to add the 2nd layer is that it was tilting in too much. I little is good but this seemed excessive.
So, I added another set of boards to support the inner edge of the 2nd layer to decrease the tilt.
Much better:
I am an old man so my back told me I was done for the afternoon. I'll post more as I have progress.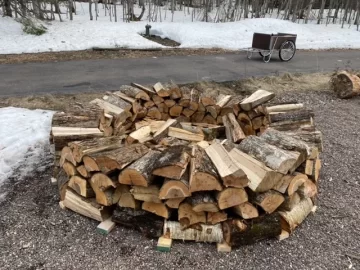 Last edited: