Well, last summer when new roof was installed, I found some of my then 25+ year old flue rotted some on outer flue wall, not stainless liner.
Then, there was a 3 foot horizontal, a Tee, and 5 x 3 foot straight up (
15
feet) through old eave of carport roof and well above eve of house roof, capped with a pell vent cap
. I didn't have new vent handy then, so told roofers to just cover hole …. I had other bigger issues. Spent coldest part of last winter in hospital, doing better now.
We've been doing fine with small infared like heaters like Edinpure, and house heat but miss pellet heat.
Today, I opened up the weather cover over tee (
coffee can
) and put a
2foot and 3 foot piece straight up, 90 degree elbow, and angled venture like horizontal vent (
I have new 3 foot piece and tee but did not have time to
install
….
so I will tackle that in spring)
. The venture exit is aimed down maybe 15 degrees and away from house above a carport window that stays shut. After putting 2 and 3 foot piece together, I added a pop rivet to lock them. the elbow and vent are tight fit. I also coated upper side of old tee with corrosion with some Permatex Nickle Never Seize so it'll be easier to remove in spring. I have it clamped to same brackets I had in place.
Wonder how well the old stove works with it? Maybe fire her up tonight. It's my 1992 Vermont Castings Reliance (
or is it Reliant?
) 2220, no adjustments ever (
not sure but seems I did see places to adjust pots on board once?
).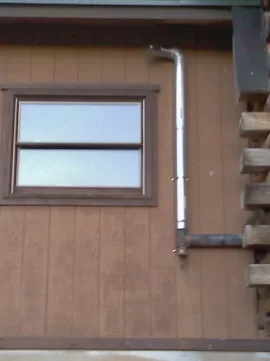 Last edited: