I've routinely posted on here that I am a huge fan of my little MS 180 C-BE Mini Boss with 16" bar for suburban homeowner use. Yes, it was branded as a Mini Boss.

I have a one-acre semi-wooded lot. I purchased the saw in 2010, and it has done everything I've needed. It's been great.
Been looking at Craigslist for a larger saw for a while. I'm doing more wood myself. Also want to clear the woods some. Folks here list Stihl saws with high prices. Vehicle mileage depreciation estimated online that factor in gas, maintenance, insurance, and depreciation, suggest that driving to purchase an item such as a chainsaw doesn't make much fiscal sense. Might as well just buy new, when also considering a purchaser may change bar and chain, depending on inspection.
Two saws were recently posted in my region, metrowest Boston, that captured my attention.
A lightly used MS 251 C-BE with carrying case was in a town just over 20 miles away. $200. Said he purchased it 5 years ago. Lightly used. Hasn't been used in the past two years. Pictures on the Craigslist ad looked good. Was going to look at it the next day, and he let me know he sold it to a relative.
An MS 271 Wood Boss with 20-inch bar was posted in from the neighboring town. $300. Went to see it. Purchased last year. Used three times. Said it's too big for his needs, and he bought a smaller electric. New with tax would be over $500. Bought the saw for $300.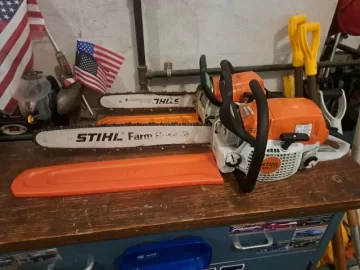 Last edited: