I'm another newcomer to this forum and have been finding it incredibly helpful – thank you. I hope that you might provide some guidance on a few questions.
We want to install a wood-burning insert that qualifies for the 30% tax credit to provide a bit of heat when our electricity goes out (we heat with ductless minisplits) and to enjoy fires without wasting lots of energy. We want to avoid having to tear up part of the floor to install a new hearth by putting the insert on a pedestal. Is this possible? Because our fireplace and hearth are small, the only insert I've found that fits the bill is the Regency i-1500.In light of our small fireplace and the wood trim above it - described below - is putting a pedestal under an insert / this insert workable?
These are the dimensions I'm worried about:
Minimum required height of pedestal if the hearth is not to-code: 4 ½"
Height of i1500 itself: 18 ¾" (¾" more where flue adaptor is, which doesn't seem relevant)
Minimum required clearance from top of insert to combustible trim above: 15"
Total needed from floor of fireplace to base of trim: 4 ½" pedestal + 18 ¾" insert + 15" to trim = 38 ¼"
The distance from the floor of our fireplace to the base of the white-painted trim (visible in photo) is just 37 ¾".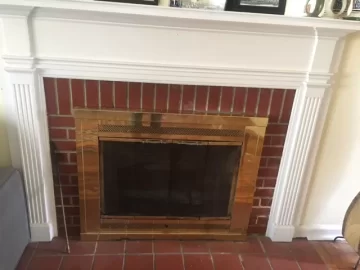 So, if adding a pedestal is feasible, we would remove 1 ½" of the underside of the trim. This seems much easier and less expensive than replacing our hearth (which would probably be a deal-breaker for us). But I'm worried that I'm missing something - or missing a lot! In your experience, is this plan workable?
In case they're relevant, these are some other dimensions:
Our fireplace depth: 15". Minimum required depth for i1500: 13 ¾" (16 ½" with offset flue adaptor)
Depth of i1500 itself: 16 7/8" (20 3/16" including base that juts out in front of fireplace)
Lintel: 4"
Our fireplace width: 33" in front, 29" in back. Minimum required width for i1500: 23"
Our fireplace height: 29" front, 32" back. Minimum required height for i1500: 19".
One other question: For aesthetic reasons and to get as much heat as we can from the insert, we'd prefer not to install the surround. In the absence of a to-code hearth, is this safe?
Thank you so much for any light you can shed on this.