This poor 22 y/o mower started this season with just one pull and nothing else is wrong with it! Definitely worth fixing!
After all we are talking atleast $369.00 at Lowe's to replace this mower I paid $169.95 for! Wow that is steep!
In the early 2000s the Craftsman, Hasqvarna and MTA gas rotary push mowers had large back wheels with a wheel height adjuster bracket bolted to the side of the lawn mower with a shoulder bolt part # 532 160828 for model 917.387500 lawn mower. Then the wheel is bolted to this adjuster bracket.
Then I found out this bolt was discontinued by the manufacturer.

The bolt in question is 5/16-18 course thread that measures 1-1/4" long with the length of the shoulder section only 1/4" long and a diameter of 1/2".
I did order a bolt on the Internet which looks like the right bolt but unfortunately even though it was 5/16-18 course thread the shoulder section is 5/8" long with a diameter of 1/2" and the total lengt is 1-1/2" :-( close.
I also tried hardware stores and a fastener store that carries shoulder bolts but not one this size. :-(
Buy the official Husqvarna Shoulder Bolt 5/16-18 596203801 replacement - Use our model diagrams, repair help, and video tutorials to help get the job done.
www.ereplacementparts.com
Then I had an idea! Adding 6 washers with 1/2" diameter centers would take up the slack so I could tighten everything in but since the bolt and should had to go in from the outside of the wheel, would it be in the way of the wheel? The answer was yes but only slightly! So I ground down the side of the top washer next to the wheel axle and the point of the bolt facing the wheel. The old vibration nut was stuck solid on the old should bolt and could not be removed. When attempting to tighter this nut the bolt broke. Therefore I just used a regular 5/16-18 course thread SS nut and a C lock washer. Bingo it all works!! See pics
Pic 1 - 3 2001 Sears craftsman rotary gas mower
Pic 4 - Broken Shoulder Bolt
Pic 5-6 New shoulder bolt from
www.ereplacement
parts.com
Pic 7-8 Owner's manual shoulder bolt number 44 on diagram and parts list.
Pic 9-10 Grinding washer and new shoulder bolt. Washers with smaller outer diameter may be a better choice if they have a 1/2" inner diameter. I just had these lying around.

Pic 11-13 Wheel is fixed!!
Pic 14 - Shoulder bolt I made work!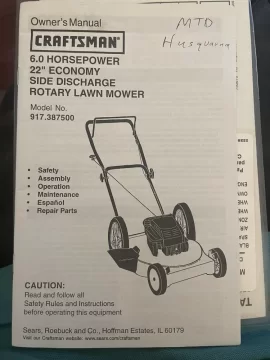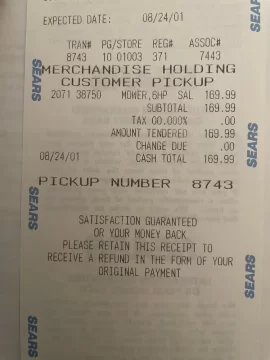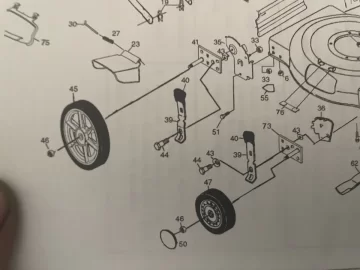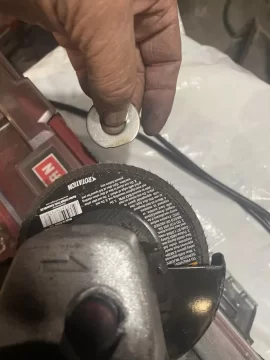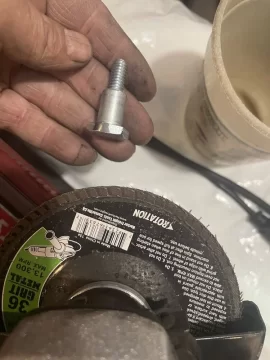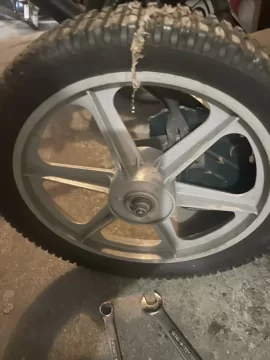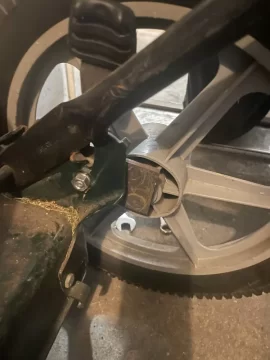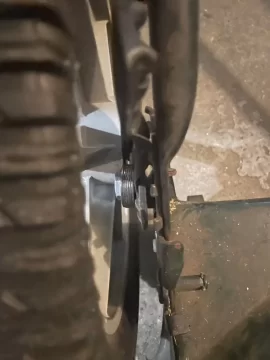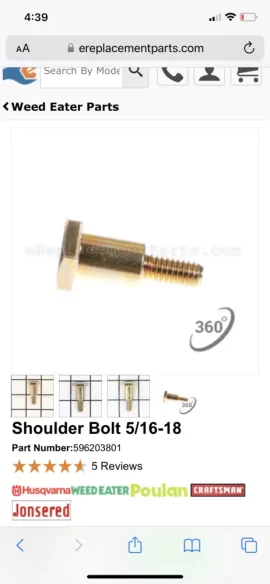 Last edited: