Greetings! I'm hoping I can find some advice here on my investigation into purchasing a wood-burning fireplace insert. First, some background info.
I'm in PA, and have a roughly 100 year old Craftsman-style home with an original masonry fireplace and brick chimney. A large ~500 sqft "great room" was added to the house about 15-20 years ago (before we moved in) - I'm not really concerned about being able to heat this with the insert. The original portion of the house is a 2-story. The room in which the fireplace is situated is central to the original house, with the stairs opposite the fireplace, and to the left and right of it entryways to the kitchen and front/sun room. The house currently has oil-fired hydronic heat via old-school radiators in the original portion of the house, and hydronic baseboard heaters in the addition. My primary desire in looking into an insert is in having a secondary way of efficiently heating the main part of the house to reduce oil costs. Another detail, is that the fireplace is faced on all sides with historic Mercer tiles, that I really want to leave exposed as much as possible (picture below). The current 26% tax rebate is another consideration - I'd like to take advantage of it, unless there are compelling reasons to go with a unit that doesn't qualify.
The fireplace dimensions are 31.5" wide, 31.5 height, 25" depth (at deepest point), and 26" width at back.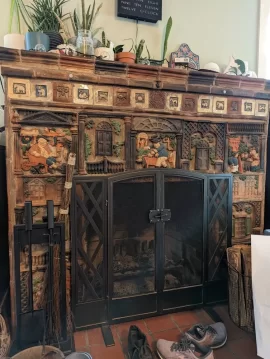 I've contacted a few local fireplace stores and initial contacts have suggested inserts (all of which meet the standard for the tax rebate) such as the Regency i2500, and the Blaze King lineup. Are these good units? They all employ a catalytic system. Is that added expense and hassle of maintaining a catalytic system worth the benefit in efficiency? This is the first time I've started to seriously look into inserts, so I know fairly little. I considered pellet inserts, but think I would prefer the flexibility of wood-burning as trees are plentiful in my area if I ever had to scavenge for fuel. I was told by one of the stores I contacted that due to the opening height I'd need an oversized faceplate which would be 33x48" and cover a large portion of the tiles. How essential is the faceplate surround? Could I potentially fabricate one with some sheet metal, or have one fabricated?
What units would you all recommend? Are there any important questions that I should be asking, but don't know enough to?
I really appreciate any help you can give me. Thanks for your time.