I've been splitting by hand now going on 10 years and this year because of time and my kids being old enough to help decided to finally look at purchasing a new splitter.
I'm a bit picture short but will add more to the review tomorrow, I could swear I took more pictures with my camera but obviously not.
While I was looking at new splitters I had a few features I was really looking for:
1) Horizontal operation mainly
2) Around 20-25 tons
3) Reasonably fast cycle time
4) Axle not welded to the oil tank
5) Good quality welds with an established history
6) Cylinder supported at the end and not on tabs welded to the side (seen several failures on splitters with this mounting).
I looked into several brands Speeco/Huskee, Ariens, Iron & Oak / Brave, Super Split
I spotted this Brave at the local Big R on clearance since it was last year's model and was a series of splitters made specifically for Big R with a smaller cylinder and a faster cycle time than the typical XR1222.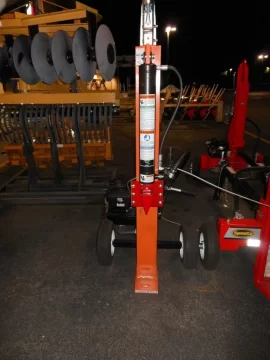 The specs are:
Horizontal/Vertical operation
11 second cycle time
Towable
5 gallon oil tank
Square tube fabricated beam construction
Briggs Quantum 625 series engine
2-Stage 11 GPM Pump
I bought the unit for $899 and they included the 5 gallons of tractor fluid but no engine oil for the motor. The engine oil wasn't a problem since I had full synthetic at home for all my other power equipment.
I got the unit home last week, added the oil to the splitter and then followed the procedure to prime the pump and fill the cylinder. Took about 20 minutes to get all the oil into the tank and make sure the engine was gassed up.
The only thing about the unit I didn't like was the lack of a hydraulic filter but that can be added for about 30 bucks which is something I plan on doing later this year. I spoke with Brave products and they told me that adding the filter would not change the warranty.
I've used the splitter now for a week and have split about 4 cords of wood with it. I've been splitting mainly Red Fir and Tamarack with a bit of lodgepole pine mixed in. So far the splitter performs great and I've had no issues. The Briggs engine fires up in 1 pull every time and the cycle time is acceptable since generally speaking I don't use the whole cycle. I've thrown a few pretty knotty pieces at it and it's powered through with no issues.
I have noticed I can split a lot more wood in less time than I usually do manually and I've taken to splitting wood as it comes off the truck to minimize the amount of times I have to handle it before it's stacked.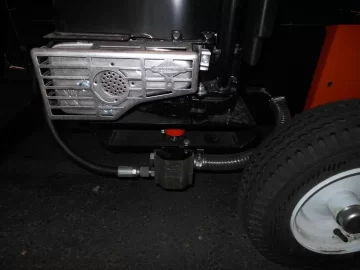 So far I'm pleased with the splitter, especially given the quality of the construction. The folks at Big R did a pretty good job on assembly and none of the connections were loose on the hoses. Given the performance so far I would buy the unit again. I'll keep everyone posted and add some more pictures later this week. I'll also post pictures when I add the inline filter in the next month or so.
Last edited: