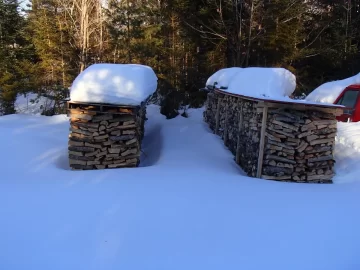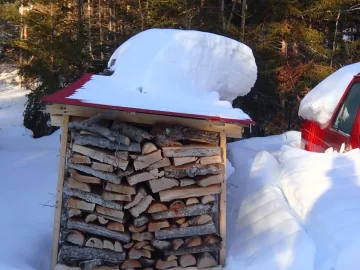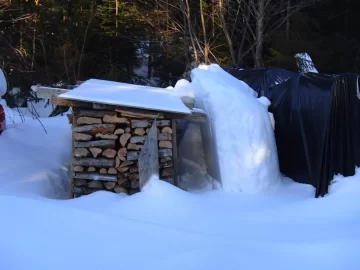 Here is why I think covering a stack with an air gap and overhangs is important. The stack on the left in the first photo is just a pallet on top of the stack with some old galvanized roofing with the seam running lengthwise along the stack. As you can see the wood is sheltered from melting and I get air flow in the summer but the snow block is pretty well fixed. The stack is the center is red scrap metal roofing with seams perpendicular to the stack. I ran out of roofing so the far end of the stack has pallet and tin arrangement. I did not touch the snow on top of the stack. Warm air from the front side of the stack warmed up the bottom of the roofing and it started sliding.When I looked at it the day before it was hanging over the back edge about 6". The last photo is a similar set up but the roofing is an old sign made out something similar to AZEK used for trim board on houses these days That stack has one seam perpendicular to the stack so the big block of snow slid right off. The stack to the right is solar kiln covered with black plastic. I havent pulled a sample of the wood but contrary to the solar kilns folks recommendations, the air flow out the side vents was quite high all summer and I saw temps up to 130 when I probed the top space despite being black. Its just conduit hoops underneath with no roof. The snow didnt slide off that one, the plastic stretched down to the stack underneath in between the hops and was trapped so I did need to rake off the snow.
My guess once the snow melts, I can just tighten up the plastic and let it sit until I move the wood to my wood shed.
My thought is the center stack with the red roofing racked and leaned back a bit when the big block tried to slide off the end in the foreground. It would have put in lot of overhanging load to the back before the snow block cracked.
Last edited: