We're using dead Sassafras logs as a base, with cattle panel, 4 GA. welded wire sections on top held in place with a few fence staples. The Sass is quite rot-resistant, and hopefully these bases will be stable and hold up for a long time. The cattle panel comes in 50"x16' sections, which now cost $33 each at Rural King, but I got six last year for $25 each, enough to stack twelve cords. 🤗 We set these two up today at my wood-grabbin' nephew's folks' place, where my ex-Fireview now resides. We have a couple other bases over there that I set up there previously, using a double-layer of concrete remesh from a couple rolls that I scrounged in front of someone's house that had a "free" sign on em. I threw em in the ditch where no one else could see em, went and got the big car and 5x8 trailer and came back to grab em. ✊ 😏
Nephew was getting ahead of me on splitting. I wanted to get the bases set up ASAP so they can stack the pile of splits and get it outta the way.
So, any guesses on how much this pile will stack out to? It's about 8x8' on the base and 6' high.
He was splitting when I got there to finish the stack bases this afternoon, but he tossed a small round over toward the splitter, it hit a tire and flew up, smashing the plastic fuel bowl! 😖
Anybody have ideas, suggestions, improvements we could make to this system?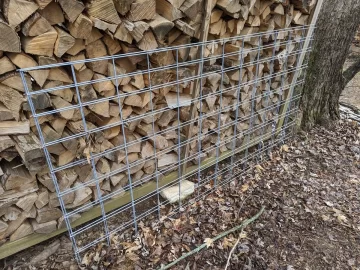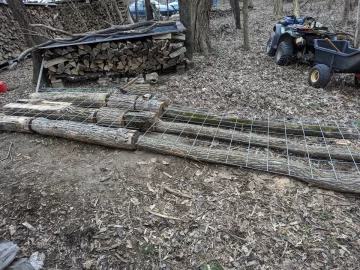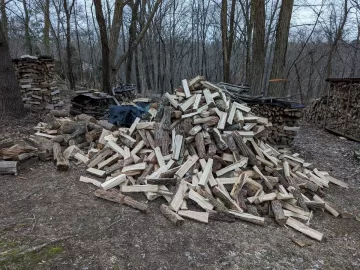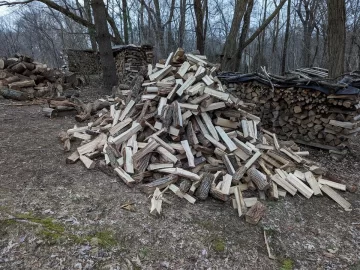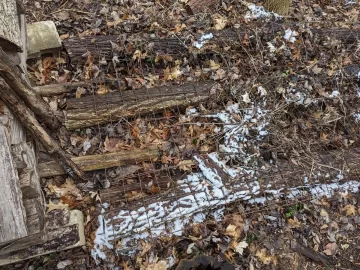 Last edited: