I want to add some buffer and outdoor reset into my current supplemental wood heat system. I got these tanks at a good price but haven't done any work yet. They have decent 1-1/4 connection points (shown in drawing) for a 2 pipe arrangement, except for an upper supply header, so I came up with this entering into an existing top bung. I know it will mix more when recharging, but this would save me from chopping into brand new tanks to add a side connection, and I thought it could still work well for my needs: on demand DHW and low temp radiant slabs on outdoor reset injection.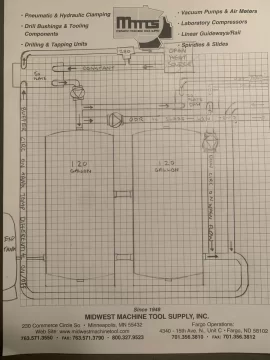 My sketch shows my idea for the supply header but all tank connection points shown are what is existing. Heat source is a small but capable Heatmaster C150 OWB with a low water capacity of 60 gallons. It recovers super fast then idles often. I'm hoping to help with that as well as help get me a better pad on the cold nights before I get outside to reload. It does surprisingly well now working as an on demand, inline FPHX setup but I see room for improvement and my wife will tell you I like to fix what isn't broken

This isn't a gasifier and I'm not trying to create a thermal storage; I'm after more convenience and maybe better efficiency at times of the season.
Will that supply header on top be a deal breaker?
Maybe the cross flow would help..?