Hello Everyone,
New to the woodstove community. This is our first woodstove. It has worked very well, but I continue to have a leakage issue that comes back every 1-2 months. We have a Resolute Acclaim 2490 and twice this season in the right lower corner of the glass there has been creosote those creeps up into the 3/16" glass gasket and eventually makes the house smell smokey. It has happened twice since we started using in mid-October. I believe it may be user error in the sense that i am turning the stove down too low at night and the creosote is building up too much. This last time I did not have a large enough coal bed with air set too low and when I got up the next morning most of the wood had not burned, but everything was creosoted up and there was a light smoke smell throughout the house. when I opened the door to inspect there was a short piece of log that had come forward of the posts that keeps the fire away from the glass that had not burned. From what I can deduce I may have run the stove too low with not a large enough coal bed combined with a chunk of wood too close to the glass allowing for additional accumulation of creosote in that area which is just a few inches from the glass gasket area. Also, I am burning a mixture of green ash, red & white oak, shagbark hickory, black locust, and some black walnut. All has been seasoned properly and is anywhere from 10-18% moisture for the record.
Has anyone ever seen this issue? Is this user error or some flaw in the design of this stove? pictures below:
As you can see the creosote builds up/soaks into the fiberglass gasket and then bubbles thru to the outside of the stove. the first time it happened there was some visible smoke coming from the corner. this time just a smell, but no smoke under a light.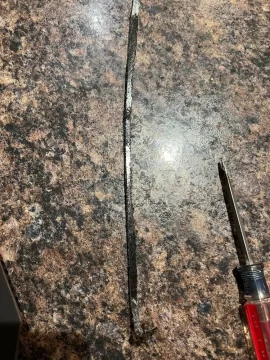 Two month old gasket. size is 3/16" and it was installed with gasket cement on one side.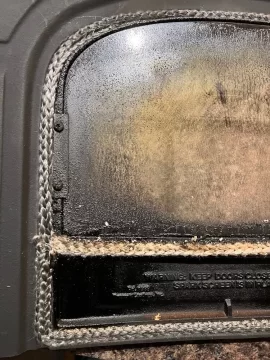 This is the left lower corner of the glass. As you can see creosote built up pretty heavily after just one night of running the stove. I would normally during the day run it between 450-650 degs and we don't see this kind of build up normally. Every morning the glass is dirty when i get up, but it cleans up quickly after i stoke the coal bed, turn up the air to high and add some fresh logs.
Thanks,
Andrew