So, Monday night the temps here were dropping into the mid 30's (F). Even though I have the AC's in the windows

I said to myself "fire off the PE, keep the chill out, let the OB take care of the lower level, if needed".

Start coal bed, gleefully go outside, and bring in some firewood. Load 3 splits on decent bed of oak bark & lumber scraps. Face temp of the PE @300F. Temps climb to 400F, burning nicely. Temp climbs to 450F, shut air 1/2 way down. Normal "up ticks" coming from the PE. No firewood near the door glass, stove was cleaned out, and boost baffle removed, and stove thoroughly cleaned for summer.
Leave room, go to kitchen. Fill dogs water bowl. Hear a semi metallic loud BANG/BAM from stove room. Know it's from the PE, know it

Say "WTF" to myself. Brain engages. Not an up tick, never heard that noise from that stove before, baffle fell down? Nah, probably not.
Return to den, stove cruising@ 500F, secondary's super engaged. And then I notice that the fire through the glass is distorted.
*pics taken next night*
Look from behind Old Man Sam's ear, down to his front paw.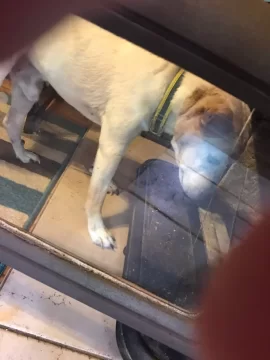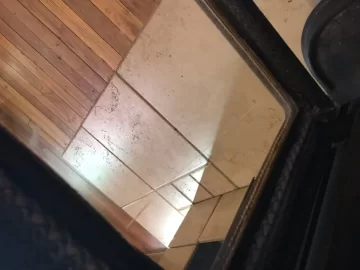 Talked to Tom Oyun AKA The Chimney Sweep. New door glass ordered, and I can replace it myself

I'm glad it was June, and not November

Last edited by a moderator: