Well with some guidance of a member that was nice enough to take the time, Ive learned that the stove only runs with the vac switch bypassed or jumped as u say. We bought a new vac switch btw and that didnt fix it so..... We thought we had a vacumm leak as we have never changed our door gasket, Pictured here is our new gasket installed. Sadly it didnt help....still the same thing. Only starts up when vac switch has been jumped. We have checked the vaccum line and ports and like mentioned added new vac switch.
Any one know of where else there could be a vac issue. Yes we have cleaned the stove two weekends ago i removed it from the exhaust pipe and throughly cleaned everything....removed all the panels sides and rear, and all bricks. Some folks have mentioned about some gasket under the burn pot, but our manual shows no such thing. Ive even googled our model and cant find any piks of a gasket under the pot. Our stove is older model so that must be a newer thing i suppose. Same as the air wash location. Ours is up top not on the bottom.
If we cannot figure this out we are going to try to sell it. if any one local is interested. Obviously has many new parts, Igniter works perfectly....new snap discs, new auger, new vac switch and new door gasket. Shame we cant figure this stove out because when it does run it makes really good heat. THe last few years have been troubling for sure. We do not know alot about this kinda stuff , hence why we joined here. Im sure some one with a vac guage and more know how could fix this in a jiffy but im afraid we are out of wheel house at this point. I hate to even give up on it now that we really know the stove. Just out of parts to through at it, at this point.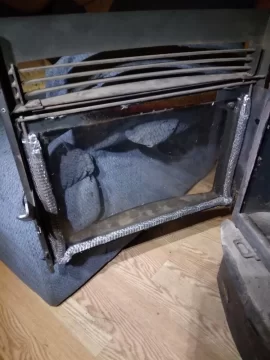 Last edited: