A couple of weeks ago in a woodstove thread, member
@ctyankee
suggested window inserts for someone dealing with single pane glass windows.
@begreen
asked about the transparency of the vinyl. My husband and I were just talking about our inserts this morning (as we were having 22 degree temperatures outside), and I thought it might be good to put a thread in the Green Room for reference if they come up again on the forum..
My family lives in a house in south central Texas with double-paned windows with aluminum frames. Some have leaks, but our energy auditors recommended fixing the leaks but keeping the windows because the cost of replacement would be astronomical, and they weren't too bad. A couple of years ago, we installed window inserts in all the windows that we could, and we have really appreciated the benefits. Our inserts have aluminum frames and are from windowinserts.com . I believe that there are fancier vinyl framed inserts that can be made curved available from indowwindows or something like that.
The inserts are noticeable, and I think would be strange in beautiful wooden windows in a traditional setting. Our home is a more modern stucco and with the existing aluminum frames, they're not that noticeable.
Our master bedroom is on the second story of our house and has a wall of windows that face west. There is some shading from trees, but the windows turn the place into an oven. We have cellular blinds that we leave closed pretty much all summer and in really cold days and nights in the winter. In this room the existing blinds are in between the glass window and the window insert, and that setup really helps cut down on heat transfer.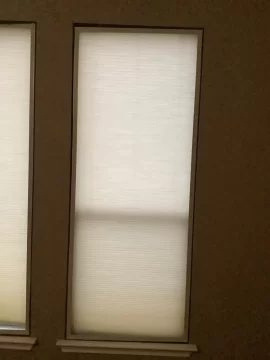 This second photo comes from the north side of our house. The night before last we had freezing rain move in from the north, and the windows were completely glazed in the morning. These windows do get some sun in the morning because it's not straight north, but it has been cloudy here and well below freezing. Nevertheless, we think it is a testament to the window insert that the ice has not yet melted from our interior heat because of the window insert and air gap.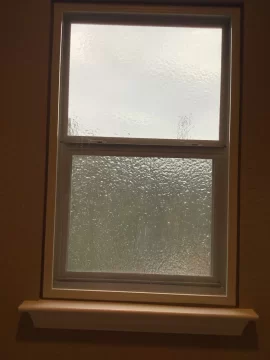 We leave our inserts in year round because we need protection from both heat and cold. In our particular case we are unable to open windows during the nice weather down here because those times correspond with our worst allergy seasons. That would be a drawback to having inserts.
We made upgrades to our house in other areas (sealing around outlets and light switches, getting better sealed LED in existing recessed light fixtures, putting radiant barrier on a south facing wall in our attic space) as that same time we installed window inserts so I can't say exactly what these inserts have done to our bills, but the changes we made lowered our electricity usage by about one third. (Some of that may also be due to relying on inverter window A/C rather than central air when we can.) I can say, however, that they have really helped make our experience of our living space much more comfortable.
Yesterday I was noticing that an exterior door we never use and that gives us trouble was once again leaking where I had put new weatherstripping in a couple of years ago. I used thumbtacks and covered it over with some extra radiant barrier we have which helped, but I was wishing I had a window insert to pop in there. We won't go that route, but it tells me something about how much I appreciate these things.
I thought it might be helpful to start this thread for future reference.
@ctyankee
or anyone else who has input or questions, feel free to contribute. There may be better options out there, but this one has been a help to us in our circumstances.