My wife is inquiring about the buckets with the beige lids. She is asking if they are for watering the garden.
Your wife hit the nail on the head, Spacebus. The biggest drawback to raised beds for us is the propensity to dry out, and in the Texas sun in summer that can happen pretty quickly. Begreen inquired about them earlier, so go back to post #165 in this thread, and you'll find more explanation and an article I linked about clay pot irrigation. A drip irrigation system would be easier, but we thought this was better given our climate and water situation.
I thought you all might be amused by the addition I made to our garden today. My husband helped me move some self-watering planters off our deck into the garden area so that I could transplant some rooted tomato suckers into them. I was too hot working in the garden and didn't want the plants to suffer in the bright sunshine, so I pulled out the two beach umbrellas we own.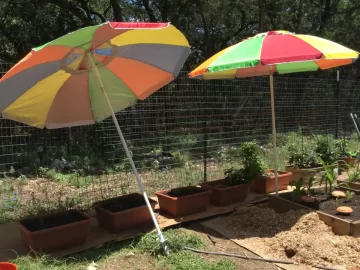 While I was out there, I took a picture of the big trellis. My older daughter wants us to build another set of beds like this just so that we can have another arch.