I've come to realize the crew that performed my last irrigation system expansion was a bunch of hacks. Bad news for the owner of the company, who did a nice job on the prior expansion, back when he was more hands-on. I'd consider doing him the favor of letting him know how bad a job they did, except the work is already a few years old, and I suspect his crews are so transient that none of the same guys even work for him anymore.
The controller, main plumbing, vacuum breaker, and first zone for gardens around our patio were already installed when I purchased the home. I had to replace the vacuum breaker (freeze damage / prior owner) and service the single zone valve, but all else was good. System was plumbed off 1" line taken directly off well expansion tank upstream of water softener, which due to the iron and mineral deposits present in the system, has caused some of the issues described below.
Since then:
System was expanded to 4 zones in 2017. Work was done by owner of a local irrigation company, and performed very well, with no unexpected issues.

Ran 1" line 100 feet across yard to new zone valve box containing one filter + 3 zone valves
Filter (Rainbird RBY) placed in new zone valve box, upstream of three new zone valves
1" lateral with two dozen drip rings downstream of each zone valve
Zone valves run sequentially (never simultaneous), so filter is only ever seeing flow of a single zone (~3 gpm)
Everything worked well

System was expanded to 6 zones in 2019. Work was done by irrigation co's new crew, while owner sat on my patio using his laptop. He should've been keeping a better eye on them.

1" line was tee'd off prior run upstream of RBY filter, and run to a new zone valve box
New box contained two valves and two filters, but the filters were placed downstream of the valves

This may have been done to prevent back-flow of dirt into valves, as new zones are all uphill of valves
But now there's no filter upstream of valves

New filters were installed so close to box edge, and angled at side of box, that it was not possible to service the filter elements. You literally had to dig up and remove the entire zone valve box, just to get at the filters!
1" lines run 200 - 400 feet to new zones on opposite ends of yard
New zone box was too short (7" tall box), and lid rested on valve solenoids. This caused a lot of pressure to be put on the valves when I'd drive over box with mower.
So much of box was hacked away for sloppy line runs, that there was almost nothing left to support it. They tried jamming a few stones under what was left of the corners, but due to leaks and flooding of box, they just slid aside and allowed box to sink onto valve solenoids.
Since this most recent expansion the system has almost continually leaked

Valves have leaked, and have been serviced or replaced 3 - 4 times each (under warranty).
System had a mystery leak, even when not detected at valves or emitters

Boxes were continually full of water, and thanks to the huge holes they cut out of them (most of two opposite corners), they'd continually back-fill with surrounding mud. They also wouldn't stay planted, continually sinking under pressure, due to most of their foot ring being cut out due to poor system planning.

I added a 20" big blue filter with 1" in/out and a 5-micron pleated filter on the main line coming off my well expansion tank in 2021. This was aimed at reducing particulates going to the irrigation valves and emitters.

Our well water has tested good every 5 years, no health concerns. But there is some small sediment detected, entirely iron and clay, and the water has a high total hardness. Additionally, calcium or copper and iron oxides present in the system (just age) will occasionally clog one of the hydraulic orifices in the zone valves.
Frustrated with the constant leaks and issues with the two newest zone valves, I dug up the whole mess of two zone boxes and five valves this week. I ordered two new (deeper) boxes to resolve the issue of the boxes sinking and placing pressure on the solenoids, and also found the mystery leak. They had some horrendous bends in the piping putting sideways pressure on the hose barb fittings, likely just someone being too lazy to walk 200 feet back to the truck to grab another elbow or other fitting, which was the source of some of the mystery leaks and the water constantly in the boxes. It was a total cluster-F**, with some the primary 1" lines set so shallow around the box that it's a miracle I never hit one with an aerator tine. I cut half of their plumbing out and re-routed it, with no extreme bends in the poly pipe, to avoid the same leaking isues they had at the barb fittings, and to better allow me to place the boxes without hacking so much away from them.
All is now repaired and looking good. But before re-burying, I'm really thinking of moving the tee for the last two zones from it's present location upstream of the inline filter, to tail off the line feeding the three 2017 valves. This would have all five of these valves receiving filtered water. Again, these valves are run sequentially only, never simultaneously, so the single filter should be fine to handle the flow. The total volume of water pushed thru these five valves each a season might be a lot for a single RBY filter, but the big blue filter installed up at the house should continue to ensure that there's less hitting the RBY filter over time.
Their zone boxes: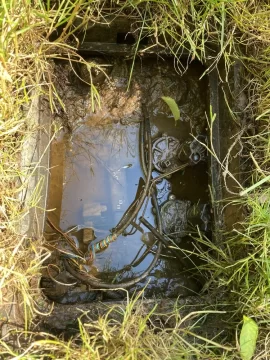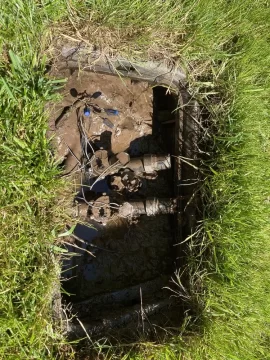 After some digging: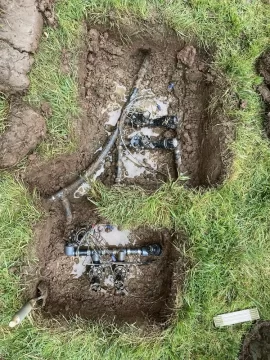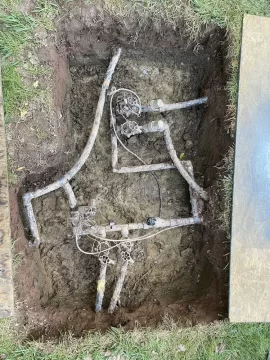 In that photo above, the 2017 work is in the lower area, the 2019 work is in the upper area. You can see why they had to cut away most of the end of the new box in 2019, as the bent piping from 2017 ran an arc thru the one wall of the box. I drove the temporary PVC pipe stake into the ground to separate them, so I could temporarily place a box while deciding what to do.
Here's how I have it re-arranged today: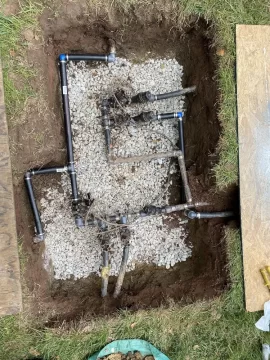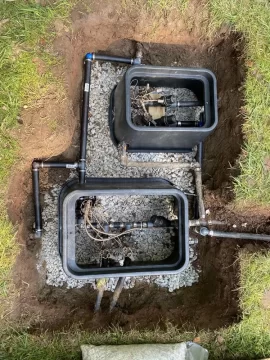 You can see I still have the two newer valves tee'd off the main line upstream of the filter, I did not change that yet. However, finding another one of their mystery leaks is in the elbow of that line running from the main line to the new box, I need to cut that out and redo anyway. I'm thinking of ditching that tee, and coming off the far end of the manifold feeding the first three zone valves, such that the last two get filtered water: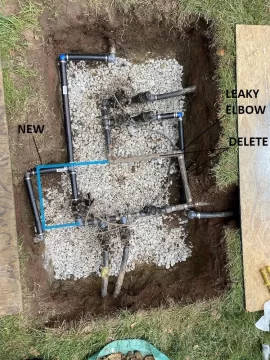 If you actually made it thru all this, I'd be interested in any opinions, advice, or even similar tales of woe.