I'm sorry to hear you are still having critter problems. Do you have metal fencing laid flat on the ground outside of the fence perimeter as a dig barrier? Do you have a trail cam to catch the culprits?
We did have a nice break from it for about seven weeks. That's when we redid all of our fencing and did just what you suggested: laid a 2 inch mesh going out a foot from the posts in an L-pattern. That's reburied in mulch, and there's no sign of any digging under the fence. That's what's so weird.
I don't know that the photos show what's happening in the garden, but it's definitely a digger, not a fruit eater. For that I'm thankful, even though I don't love the harm to the roots.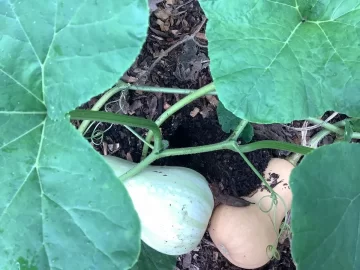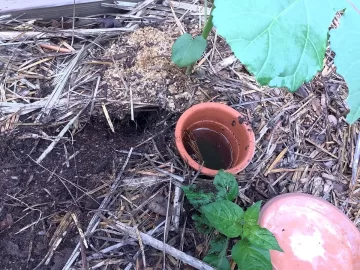 The hole near the two butternut squash goes down about six inches, if not more. That kind of hole keeps showing up all over the garden. I've also been finding a number of the olla lids knocked off, whether on purpose or by accident, I don't know. I think the creature likes the moist soil near the ollas.
We had returned our neighbors' live traps a couple of weeks ago since we weren't having success, and they were thinking of trying to trap in their garden. They weren't using them, though, and let us reborrow them. We set them near our shed last night and put fencing across the whole area to separate the shed from the garden. No success and holes in the garden. Tonight they're blocking one of the garden pathways with one open each direction. We'll see.
I've just started doing more serious research on game cameras as we've decided that we will make that small investment. Our biggest issue will be getting a photo through all the vertical gardening I do. The foliage is pretty lush right now.