Hello
It seems that the wheel lug nuts on car tires get overtightened way too often these days so you have to call for help!
Therefore I was determined to check out all the wheel lugs on the 2007 Camry to see if I could remove them if I had a flat on the road?
The answer was Certainly Not!!
Here are the agonizing steps I went thru!
1. Did not even try the lug nut wrench that came with the car.
2. Had a cross bar wrench that I could loosen some but not all 5 to get even one wheel off!
3. Got more loose with the air gun but not all!
4. Had an icon breaker bar wrench with a 21 mm socket so I could loosen a few more lug nuts but not all!
Some of the wheel lug nuts were distorted and the breaker bar did not seem to grip them properly to get enough torque on them!
5. Using a Maddox impact set and a rubber hammer, I banged it on those tough ones and got the grip I needed to get those lug nuts off!
Thank god but see pic of ripped lug nut? I cannot put that back on! Also had to bang the lug nut out of the impact socket on the bench vise!
6. Purchased non OEM lug nuts at Pep Boys
packs of 4 for $7.49 each
7. Looked up torque specs for Camry
76 ft-lbs but many mechanics say more is needed when using aluminum wheels instead of the old steel wheels of yester year!
8. Using a 90 ft-lbs red torque stick on the new lugs, I spun them on with the air gun,
Now ran two important tests.
1. Yes I can get the lug nuts off with a crossbar wrench if I got a flat somewhere and change my tire!!
2. Ran car on highway to assure tires were on securely even at high speeds.
See pics
1. Standard Cross Bar wheel wrench
2.Icon Breaker Bar and 21mm impact socket
3. Maddox wheel lug impact removal set
4. Distorted and torn wheel lug after finally removing it with breaker bar and Maddox impact removal socket
5-6 New non OEM wheel lug nuts for Toyota from Pep Boys $7.99 for set of 4
7. Installing new lug nuts with red 90 ft-lbs torque stick on HF Earthquake XT impact wrench.
8. Manufacturer wheel lug nut torque spec
9. New lug nut specs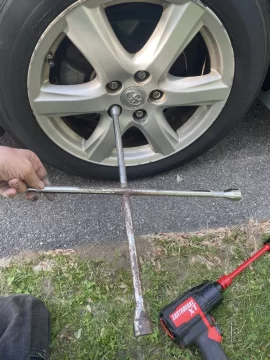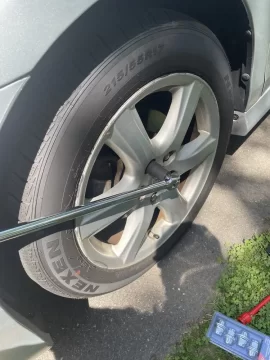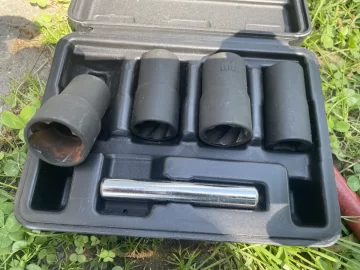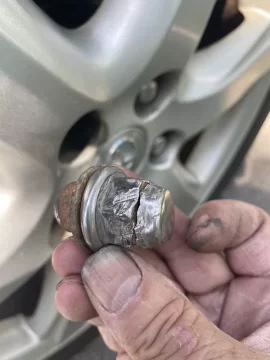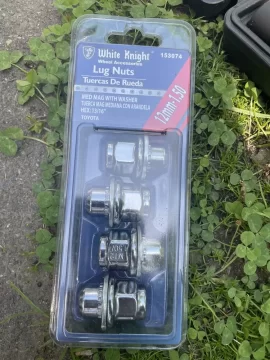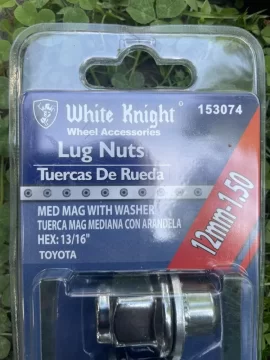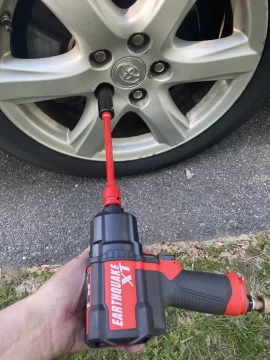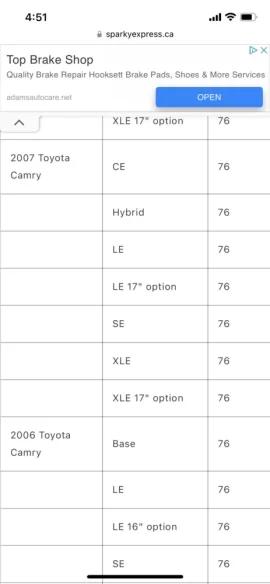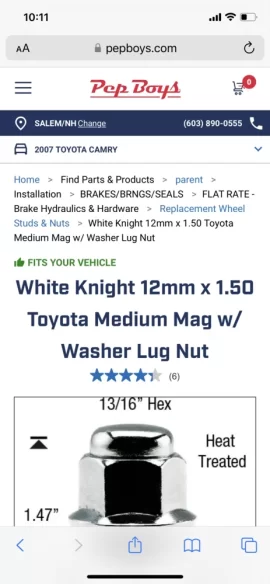 Last edited: