Hi All, I was hoping I could get some advice on safety with a wood stove & chimney. I'm new to the wood stove world, so I'm still trying to learn some things. We bought a new house recently that the previous owners had built themselves about 20 years ago. There is a wood stove with masonry built around it like a fireplace that I'm nearly certain is original to the house. It is built around the stove in the living room, and the masonry goes all the way up to probably an 18 foot ceiling. There's a 4 seasons room that is part of the house behind the stove/fireplace that has attic space. It has a clay liner chimney. The stove is a Timberland Fireplace Furnace. I'm guessing the model is M-36 Single just based on my measurements. I can't find anything about this make anywhere online. Appears to have been made by Messer Machine Mfg?
I know the previous owners used the stove quite a bit. I do a lot of DIY stuff, but I had a chimney sweep come out to clean it because the roof pitch is probably 12/12 and I don't have the gear to navigate that, but when they got up on the roof they said it looked pretty good so didn't end up cleaning anything. She showed me a picture of the inside and said it must had been cleaned already and that someone "whipped it" whatever that means. She pointed out a few small spots near the top that had some shiny globs that were creosote, but it looked pretty clean on the walls and no visible cracking that I could tell at least. The inside of the tile near the top appeared to be more of a beige color. Unfortunately I don't have the picture to share. She said she wouldn't have a problem burning it herself, but that she recommended I get it lined with stainless steel because it's not code anymore to use clay with a stove because it's too hot and if it has been burned for 20 years already that it could be more fragile, but that she was going to ask someone else about how to go about lining since we can't exactly pull the stove out to connect it. She mentioned possibly using a rectangular liner. They did install a SS chimney cap. She mentioned they use silicone because the screw things can crack the tiles?
Anyways, I attached the book which the previous owners left and a few photos. My main question is does it actually need relined? Is it safe to use clay with the stove? The house is built really well, so I assume the fireplace was done how the book says to do it, but I guess I have no way of knowing for sure. If I did want a SS liner, how would that work in this situation?
Thanks for the help!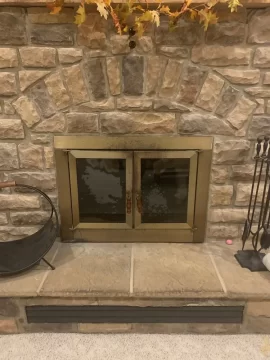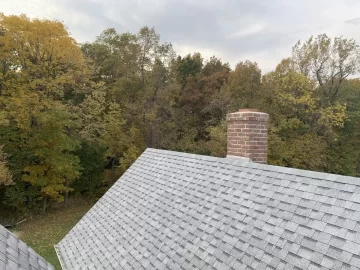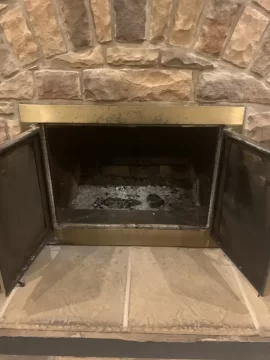 Last edited: