I've been a long time lurker and Im finally getting to the point where my project is about to start becoming reality. I need to make a choice between the two stoves and I wanted to get everyone's opinion...
Im going to be heating a 30x30 open concept room with 20 foot ceilings in 2/3rs and 10 foot in the last 1/3 over the kitchen. The house will be pretty efficient with foam insulation, likely will be brining in outside air to feed the stove. We are also in Texas so this will likely not be running full time but rather when its really cold outside in the low 30's or if we have a power outage.
See below for room layout...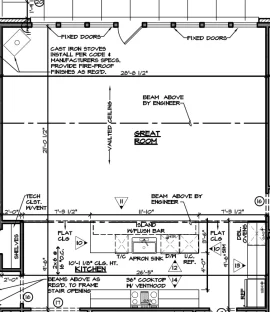 I have it narrowed down to two stoves:
https://www.hearthstonestoves.com/product/heritage/
Hearth Stone Heritage
https://www.vermontcastings.com/products/dauntless-flexburn-wood-burning-stove
and a Vermont Casting Dauntless.
I know they are different types of stoves and will heat differently and on paper, it seems like the heathstone could be a better fit. Id like to get everyone's onions since this will be my first wood burner.
Which is a better choice for build quality and durability?
If we did lose power and had to rely on one of these stoves to heat the common area, which one would be best?
How different will the heat be with the soapstone?
Thanks in advance!