Hello everyone! Tonight I stumbled upon this site and I love it.
Earlier this year my wife and I bought our house which has an OWB. The boiler is located about 30 yards from the house on the backside of my pole barn which is 30' x24'. The previous owner sprung for the top of the line insulated lines for the supply and return.
I run the boiler as my primary heat and we have a propane forced air furnace as back up if it goes out. The OWB also heats our hot water heater.
So here is my plan and I'd appreciate some feedback and any wisdom anyone could impart. The pole barn (30'x24') is currently uninsulated and has a crushed stone floor. My plan is to take the lines from the boiler and cut them as they pass by the pole barn and swing them into the barn, underground of course. Then pex the return around in the pole barn before heading back to the boiler which is just outside the back of the pole barn. The supply would just connect right in the pole barn and go straight into the house.
All lines would be reinsulated and poured in the slab of the pole barn floor. Then we plan on insulating the pole barn.
The questions this raises for me is with no way to control the heat in the pole barn I wonder what temperature it will be out there. The return is usually around 120 degrees (according to the previous owner). I've done my research as far as installing the pex radiant heating (vapor barrier, insulation, pex). If anyone has a similar system or any tips or tricks or tweaks I should make to this plan feel free to respond.
Thanks for taking the time to read this I appreciate any and all Input!
Ps I added a couple very rough drawings I did on some app I just bought to illustrate my plan. The lines approximately pass 3' from the edge of the pole barn and run parallel lengthwise along the entire pole barn. Cutting the lines in the middle of the barn would give me more than enough "slack" to swing them into the barn.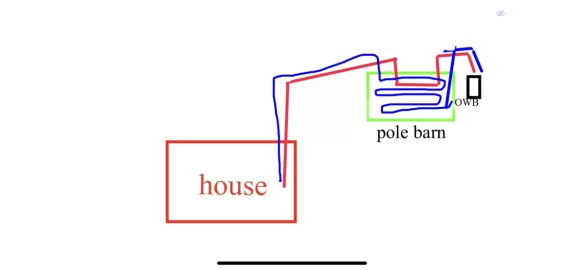 Last edited: