Since the Everything Fisher thread has so much hard to find information, I'll start a thread with detailed info on each model as I put it together.
Anyone needing information on their Grandma or Grandpa double door stove is likely to find it here. Please ask if you don't find what you need !
Grandma UL Unlisted pre 1980
with 2 square doors;
Width ; 25 1/2" across top plate.
Depth ; 28 1/4" overall with ash fender (shelf)
Height ; 30 1/2" rear, 24 1/2" front
Approx. weight 406 pounds
Logs to 20" across stove
Heats approx. 1500 s.f.
Requires 5 bricks across back, 4 sides
Flue size 8 inch top or rear
Door opening ; 17" wide X 10 1/2" high
Measurements from original 1977 prints, weight from ad; Dec. 1979
Grandpa UL Unlisted pre 1980
with 2 square doors;
Width ; 29 1/2" across top plate.
Depth ; 30 1/2" overall with ash fender (shelf)
Approx. weight 454 pounds
Logs to 24" across stove
Heats approx. 2000 s.f.
Requires 6 bricks across back, 4 sides
Flue size 8 inch top or rear
Door opening ; 22" wide X 11" high
Measurements from original 1977 prints, weight from ads; 1978
The first double door stoves were made in Oregon in 1976. Jake Jackson was a neighbor (his stove patent has his address very close to Bob) and he asked Bob to build him parts for an outdoor barbeque. After the project, he ended up selling Jake a license to build Fisher Stoves in Redmond OR, and loaned him $1000 for his first steel order. Jake later had a customer want a double door stove to view the fire, and brought the idea to Bob Fisher's shop. Bob wanted no part of more cast door patterns, and knew the stove wouldn't be as efficient as his 6 inch vented single door stoves. Public demand (and Bob's wife Carol) caused the need for a "Fireplace Model". Bob took a ride to Redmond and found Jake selling an adaptation of his stove with double doors. They agreed to terminate his license to build Fisher Stoves after Jake fulfilled his stove orders. This wasn't far from Springfield where they both lived, and Bobs "factory" was now in Eugene. So that's where the first ones were produced. Jake went on to build the Frontier Stove line and their friendship lasted until Jake's death many years later. Fisher called the new line the "Fireplace Series". These have an 8 inch outlet compared to the single door "Bear Series" 6 inch outlet stoves. Available in top or rear discharge, best for placing the rear outlet type on a hearth exiting up the existing flue.
The Grandpa Bear was the largest at the time, only one other Fisher model, the XL was ever made larger.Grandpa measures 29 1/2 inches across the top plate, with the box measuring 28" wide X 23" deep. Comfortable heating 2000 s.f. as suggested in Fisher literature, the stove is capable of even more.
The first stoves had stars on the doors, and a 76 in the largest star on the right door. Like all other Fisher Stoves with solid cast iron doors, they do not use gasket material for a door seal ! The first door hinge ears were not drilled completely through for the common 3/8 round head rivet used as a hinge pin. These had a pressed in pin pressed into the bottom of the door hinge ear, so the doors could be lifted off without loosing pins, since the idea of double doors was to be able to view the fire with the use of a fire screen attached to the front of the stove.
In July of 1977 a revision was made for adding a rear and bottom heat shield made of 20 Ga. Cold Rolled Steel. This was designated as a model II on the prints. A notation on the drawing states the shields are not required when installed on a hearth in front of a fireplace.
In 1979 a Roman Numeral III was added and the door style was available in the original square with flat top,
OR
with a new arched top style, called
"Cathedral"
. UL Listed stoves from 1980 on had integral shields with bent corners instead of welded angle iron corners that became the legs. A baffle was added for smoke reduction and optional nickel or brass plated doors became available in the cathedral style in 1980 until end of production in 1988.
Many fabricators continued to produce the old style stove with angle iron corners that was not UL Listed $100 cheaper than the Listed model for installation on non combustible hearth.
Leg options became available in 1980 shown in brochure as Straight, Furniture, and Bear Leg below;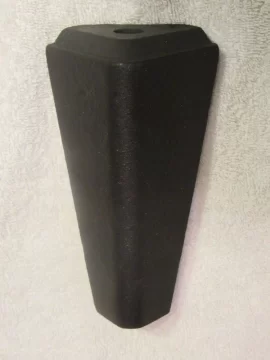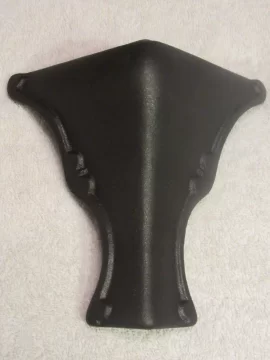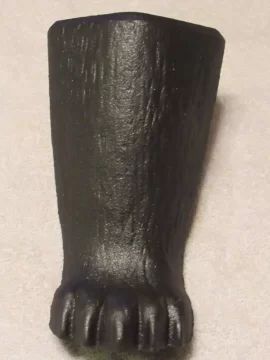 The III was later offered with Brass and Glass, and later the Model IV with larger glass was added..​
Attached Files:
Early 76 Grandpa, Pre 1980 Grandpa,
Metallic Brown Grandma III, Grandma IV (with larger glass)